Reviews of
Type 012 Varta C30 Silver Dynamic Car Battery 12V 54Ah (Varta DIN: 554 400 053)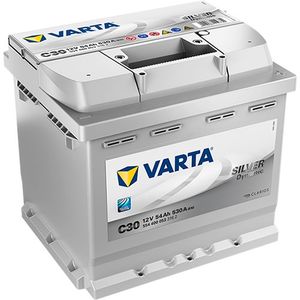 Type 012 Varta C30 Silver Dynamic Car Battery 12V 54Ah (Varta DIN: 554 400 053)
Our Price: £52.95 inc VAT

(4.9 / 5.0) Average Rating:
Total Reviews:81
Customer Reviews
Good price for a premium battery. As always delivered within stated time and well packaged to prevent damage in transit.
5
JL - Huntingdon, United Kingdom -

Fitted To: Mitsubishi Colt Elegance 1.3 litre Petrol 2005
Very quick delivery. Very Good battery. Many thanks!
5
ea - Oxfordshire, United Kingdom -

Fitted To: toyota yaris 1.3 Petrol 61
Great price, great service, great product, prompt delivery. Say's it all. Thanks.
5
MS - Birmingham, United Kingdom -

Fitted To: VW Polo 1.4 Petrol 2013
Battery supplied next day. Excellent service, well packaged and a good price. Hopefully it'll last as long as the original.
5
AS - Stafford, United Kingdom -

Fitted To: Suzuki Swift 1.2 Petrol 2012
Excellent service, good product, quick delivery and very competitive price. Very pleased and would recommend them.
5
pf - Basingstoke, United Kingdom -

Fitted To: Hyundai I20 1200 Petrol 2011
Not had the battery long enough to make a decision. Ask me again in a couple of years
5
GG - Derbyshire, United Kingdom -

Fitted To: Nissan Quahqui 1.6 lt Petrol 2011
First class, great price for OEM equivalent & very fast delivery
5
MH - Haywards Heath, United Kingdom -

Fitted To: Mini Cooper 3 dr Hatch 1600 Petrol 59
Great product and best price
5
DB - Oldham, United Kingdom -

Fitted To: alfa romeo 4c 1.75 Petrol 2016
Seems to be OK. Asking for a review now is silly. Come back in 5 years for a sensible review.
4
RN - WIRRAL, United Kingdom -

Fitted To: Toyota New Corolla Petrol 2020
Needed a bigger capacity battery due to doing short journeys and original battery was very small capacity. This was a direct replacement and same size as original but a lot more power. Car now starts no problem every time. Very quick delivery from Tayna and substantially cheaper than local Halfords store with a longer guarantee. Highly recommended!!!
5
GB - North Yorkshire, United Kingdom -

Fitted To: Suzuki Swift sport 1.6 Petrol 2017
Great product. Quickly installed in my wife's Fiat Panda 1.2 petrol (2010). Car runs great again. One word of warning, I used the battery locator using the registration plate service from Tayna, and the item offered differed in size quite materially from the original fitted to the car. I therefore did a bit of digging and found that around 2010 there were different engine variants for the 1.2 in the UK (ours being the less efficient version). Please ensure that you measure the battery dimensions before ordering.
5
RB - Halifax, United Kingdom -

Fitted To: Fiat Panda Eleganza 1.2 Petrol
Great battery at a great price delivered quickly. About £50 cheaper than Halfords!!
5
PM - RENFREW, United Kingdom -

Fitted To: Vw Golf Mk6 1.2 tsi Petrol 2010
A superb lightweight battery that packs a punch. I don't think you'll find a battery that is rated so high in terms of performance yet weighs so little - unless you mortgage your house to buy a lithium version! I little shorter in length - so make sure its held securely in your battery box to stop it moving around.
5
NR - Congleton, United Kingdom -

Fitted To: Ford Pumay Black 1.7 Petrol 2001
Excellent quality battery - performance is just what is needed for a wet and snowy Scottish highland winter with regular 0600h. starts!. The quality and performance in trying conditions shines through compared with our previous battery. Ordering from Tanya was a seamless experience. Also better price than a lesser quality battery from our habitual local supplier. Arrived within 36h, thoroughly and safely packed. NF (North Angus Glens)
5
DNJW - DUNDEE, United Kingdom -

Fitted To: Toyota Yaris 1300mL Petrol
This is a great battery, much stronger than the original Ranault. However the one Tayna sent me had clearly been siting on the shelf for a while. It arrived only part charged and degraded. Tester showed 12.35v 465A thats 78% state of health.
4
AFB - Glastonbury, United Kingdom -

Excellent service from Tayna, battery arrived next day and my car has started first time every time, even on these cold wet mornings. Would definitely recommend this battery.
5
MSJ - Cardiff, United Kingdom -

Fitted To: Mazda Yaris 1.3 Petrol 2011
Excellent value and product delivered within 48 hours
5
MB - High Wycombe, United Kingdom -

Fitted To: Smart For Two 2006
Great battery, solved my starting issues on wintery mornings.
5
AB - Manchester, United Kingdom -

Fitted To: Vauxhall Corsa D 1.2 Petrol 2010
So far so good. Car starts first time despite overnight temperatures dropping to -7 deg C
5
TH - Kirkliston, United Kingdom -

Fitted To: Skoda Roomster 1.2L Petrol 15
Still working well in a drive-bound Toyota Yaris despite sitting on drive for long periods. Starts every time. Exide battery purchased same time has failed. Varta for me all the way. Also replaced the Exide with a Varta. Say no more.
5
DA - Hailsham, United Kingdom -

Fitted To: Toyota Yaris 1.3 Petrol 2014