Reviews of
E39 Varta Start-Stop Plus 096 AGM Car Battery 12V 70Ah (570901076)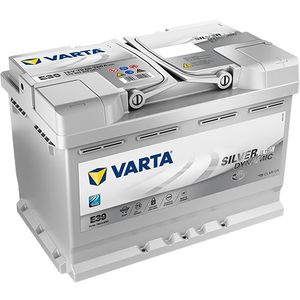 E39 Varta Start-Stop Plus 096 AGM Car Battery 12V 70Ah (570901076)
Our Price: £125.99 inc VAT

(5.0 / 5.0) Average Rating:
Total Reviews:181
Customer Reviews
Five stars for service but the battery supplied was not a Stop-Start Plus but a Stop-Start with a different part number. I was assured that there was no difference and I've taken that on trust.
5
AM - Croydon, United Kingdom -

Fitted To: Alfa Romeo Giulietta 2 litre Diesel LC61WCT
All good, battery arrived next day and very good price
5
CL - Newton Abbot, United Kingdom -

Fitted To: Skoda Octavia 1600 Diesel 2013
Emailed with the battery I had, and they emailed back the next morning suggesting a battery to look at, checked out from their link and ordered arrived the very next day. Thank you very much
5
sw - Somerset, United Kingdom -

Fitted To: Mercedes Sl 55 amg 5.5 ltr Petrol 2004
Installed this battery to my 2013, 1.6, D2 Volvo V60 Drive. Price was very reasonable. Delivery was quick. It fits perfectly and came pre-charged. Start-Stop became active again. I know Varta and their batteries very well. They are better than many leading competitors.
5
AG - Middlesex, United Kingdom -

Fitted To: Volvo V60 1.6 Diesel 2013
Good service,quick delivery
5
AS - Dungannon, United Kingdom -

Fitted To: Volvo V40 2.0 Diesel 14
Quality AGM stop-start battery at a competitive price from Tayna. Arrived protectively packaged and very fast delivery. Perfect to get my VW Golf on the road again.
5
NS - Launceston, United Kingdom -

Fitted To: VW Golf Mk6 Estate 1600 Diesel 2011
Great service and great price. Would definitely recommend !!!
5
TH - Bristol, United Kingdom -

Fitted To: Citreon C4 1600 Diesel 13
I have used Varta batteries for many years.I find the longevity/reliability is superb.
5
KKDL - Devon, United Kingdom -

Fitted To: Mini Countryman cooper sd 2ltr. Diesel 62
Fitted to 2013 Skoda Octavia MK3 vRS 2L TSI. Battery installed straight after delivery. Start/Stop available again on my first drive and has performed flawlessly since fitting.
5
TM - Cornwall, United Kingdom -

Fitted To: Skoda Octavia 2L Petrol 2013
Great battery and great service
5
GT - Higher Denham, United Kingdom -

Fitted To: Merceded Benz SL350 3.5 litre Petrol 2009
A very good product, I hope it will last long. It would have been handy to have a list of facilities where to fit the battery and to be encoded properly with the EMS.
5
GF - London, United Kingdom -

Fitted To: VW Golf 7 1.6 Diesel 2016
ITEM AS DESCRIBED AND DELIVERED PROMPTLY.
5
GD - AYR, United Kingdom -

Fitted To: MINI COOPER SD 2L Diesel
A+
5
sw - Wiltshire, United Kingdom -

Tjrs conforme à la commande. Prix compétitifs. Livraison ultra rapide ( France) et emballage nickel. Bravo aux équipes Tayna !
5
B - VILLARD BONNOT, France -

Fitted To: Citroen C5 tourer Diesel 2016
Really happy and it saved my day :)
5
SF - Ilford, United Kingdom -

Fitted To: Audi A3 2.0 Diesel 2014
The Start-Stop has rarely worked on my car since I bought it second hand in 2017, even after the dealer did a "special" charge at the last service in October. Now after a period of inactivity the original battery (also a Varta) had died so I needed a new battery. As none of the local garages were insured to install a battery away from their premises (and jump start is a no-go for the stop-start on my car) I cut out the middle man and purchased this battery direct at two thirds the price of anywhere else with delivery the next day. After fitting the car started first time and the stop-start is a revelation, it now works most of the time. I'm extremely pleased with this purchase.
5
MR - Wateringbury, United Kingdom -

Fitted To: Kia Ceed 1582 Diesel 2013
Perfect replacement for my mini cooper s
5
AM - Forest Row, United Kingdom -

Fitted To: Mini Cooper S Clubman 1600 Petrol 2007
Delivered next day and very well packaged. Battery was a direct identical replacement for the Jaguar OEM varta battery factory fitted. The car is a start/stop model and so an AGM battery is essential. The old battery tested ok, but the xf's electrical system is very sensitive to old batteries and the Start/stop had ceased to function even after giving the old battery an overnight charge with a smart charger. The New battery resolved all issues immediately and now holds the voltage much more. Old battery would test around 12.2v in the morning, the new one holds around 12.7 when checked first thing. If your reading this as an XF owner looking to replace the battery, you should program the new battery into the cars charging system. however, if you cant get hold of a programmer, it can self learn the new revitalised capacity over a short time, but the battery must be fitted fully charged to begin with. Secondly. Before you try and undo the battery retaining bolt, identify the bare thread end under the car where it will have undoubtedly corroded a little, and clean it up with a wire brush and some penetrating oil. Otherwise you may struggle to remove the bolt.
5
MALM - Manchester, United Kingdom -

Fitted To: Jaguar XF 2.2 Diesel 2015
The battery arrived promptly , fitted perfectly and is so far performing perfectly. Given it's performance rating it is also very cometativly priced .
5
sp - Eastleigh, United Kingdom -

Fitted To: Mercedes SLK 1.8 Petrol 2004
It looks good working well excellent price
5
SY - LONDON, United Kingdom -

Fitted To: Audi Q3 2 Diesel 62