Reviews of
G8 Varta Blue Dynamic Car Battery 12V 95Ah (595405083) (250 334)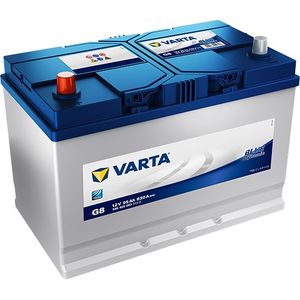 G8 Varta Blue Dynamic Car Battery 12V 95Ah (595405083) (250 334)
Our Price: £85.92 inc VAT

(4.9 / 5.0) Average Rating:
Total Reviews:272
Customer Reviews
Brilliant battery, would recommend to anyone who needs a strong battery. Service from Tayna was excellent also. I ordered the battery one afternoon, then the next day it was delivered. The battery was really well packaged to prevent any damage. 10/10 to Tayna for service. Regards colin Whittaker.
5
MCW - Manchester, United Kingdom -

Fitted To: Mitsubishi shogun,warrior 1320cc Diesel Y55MOW
Very promptly delivered and very well packaged, with good notices about unpacking correctly for saftey. Once installed this has been a very good battery - i used it a 1996 Mazda Bongo Campervan, so it gets.a drive once or twice per week, so far the battery has been absolutely faultless. One note tho is that is my own mistake is that i ordered the battery with the terminals the wrong side, but was able to overcome that with a proper battery lead to connect it back to the original posts, but that is not the batterys fault (just make sure to order the right battery if you dont want to get more parts!)
5
AK - Bournemouth, United Kingdom -

Fitted To: Mazda Bongo 2.5 Diesel 1996
fab delivery and battery
5
kw - Dorset, United Kingdom -

Fitted To: mazda b2500 2.5 Diesel 05
Does what is supposed to!
5
PI - Staffordshire, United Kingdom -

Fitted To: Range Rover P38 HSE 4.6 Petrol 1999
Very good price, service and delivery ++++
4
CT - Liverpool, United Kingdom -

Fitted To: Range Rover P38 4.6l Petrol 2002
On -10 degree mornings you are thankful for a quality battery, Always use Varta.
5
LC - Rhayader, United Kingdom -

Excellent battery. Obviously just purchased and fitted, but Varta brand gets very good reviews, so I am expecting years of perfect performance. Advised by friend to purchase from another company. There was a glitch with my debit card..transaction denied. After three attempts, took battery details..and hit Google. Tanya came up....battery was £26 cheaper...and my vehicle reqbuires two! So over £50 saving with Tayna. Every cloud..etc. Delivered next day. Exemplary service...great prices. Will recommend company to any friends needing a battery.
5
DB - Leven, United Kingdom -

Fitted To: Isuzu Trooper 3 litre TD Diesel 2000
I am sure I cant be the only one that reads this company as TANYA... Well Tanya is a 5 star girlfriend.... Best value for money, always arrives on time and has never let me down..What more could you want from a 'girlfriend'?.... Whoops Battery !
5
jc - Newquay, United Kingdom -

Fitted To: Land Rover Range Rover P38 4.6 Petrol 2001
Starting and charging problem solved at last. Awesome.
5
MY - Newport, United Kingdom -

Fitted To: Toyota Rav4 2.2 Diesel 52
Excellent product, very well packed and delivered quickly. Three 95AH batteries for boat with 8.1 litre V8
5
MH - Chesham, United Kingdom -

Good battery. Terminals are the wrong way around for a lexus is220d but it still fits with a bit of adjustment. G7 is the correct one for the car.
4
SW - Cornwall, United Kingdom -

Fitted To: Lexus Is220d 2200 Diesel 2007
Great service and price
5
NA - London, United Kingdom -

Fitted To: Toyota Amazon 4.2 Diesel 03
Easy to find on website very quick delivery great rice!
5
RB - East Molesey, United Kingdom -

Fitted To: Toyota colorado 3.0 Diesel r
Excellent battery
5
jr - South Yorkshire, United Kingdom -

Fitted To: ford ranger 2500 Diesel 2000
95Ah, 830CCA, for the same price you can purchase a battery elsewhere and end up with a much lower Ah and CCA rating. This is approx. my sixth purchase from Tayna, and I have always been delighted with the service. Great battery, delivery times and packaging. Thank you very much Tayna.
5
JG - Beckenham, United Kingdom -

Fitted To: Land Rover Defender 2.5 litre Diesel 1996
Good product and very well packaged, although i ordered on a sunday and payed 8quid for 'next working day delivery' thinking i would recieve it monday. I didn't recieve it until tues afternoon. The tues delivery day option was only a couple of quid. If id have known 'next working day delivery ' wasnt 'next wotking day delivery' i wouldnt have payed a fiver extra for it.
4
NM - Derbyshire, United Kingdom -

Fitted To: Ford Ranger 2.5 Diesel 2006
this is a good product , the Pirelli of batteries , 4 year warranty is great , last one I had lasted about 5 years ,very high torque for a battery of its size. just shy of 900 amp .
5
A - Nenagh , Ireland -

Fitted To: dodge nitro 4x4 2.8 Diesel 2011
Excellent service.Felt as though I was dealing with a local shop. Refreshing experience and cracking value for money.
5
GB - Kirkwall, United Kingdom -

Fitted To: Nissan Elgrand 3500 Petrol 2002
.
5
FEW - Southampton, United Kingdom -

Fitted To: Land Rover Defender TDI 2499 Diesel 1997
Easy to order, very quick delivery! Best price and excellent service all round. Thanks
5
WBCP - Birmingham, United Kingdom -