Reviews of
Lucas 18 Hole Golf Battery 26Ah (LSLC26-12G)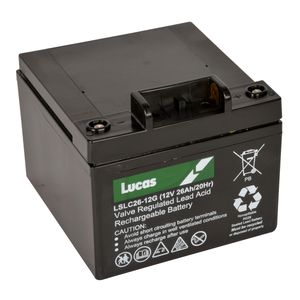 Lucas 18 Hole Golf Battery 26Ah (LSLC26-12G)
Our Price: £51.95 inc VAT

(4.6 / 5.0) Average Rating:
Total Reviews:361
Customer Reviews
Arrived on time and very well packed
5
ss - Solihull -

Great battery and 1st class service,rapid delivery.
5
VC - Devon -

Is exactly as described. Battery works perfectly. I can't comment on reliability. The only problem as with the delivery company. Dispatched next day but took over a week to arrive as it languished at the depot! Tanya batteries are great though. Fully recommended
5
ML - East Riding of Yorkshire -

Your supply and delivery service was really very very good. The product is now working and providing excellent service.
5
RK - Anstruther -

Prompt delivery in well protected package. Have l only used battery a few times so too early to say about performances but so far so good. Shame that alternate carrying straps not available.
4
DB - Ravensden, Bedford -

The battery arrived next day which was the best part of useing Tayna. I charged up the battery as per the instructions, but the battery stopped working while going down the first fairway,so had to push my trolley round for next 17 holes! I charged and tried battery on two more occassions, it failed on the first hole both times. I rung Tayna and was told to send the battery back so it could be tested. After a couple of days, the so called customer services manager rung and told me the battery was fine and it was a problem with a loose connection in the top of the battery. He then said they had fixed the problem and would return the battery to me, but they expected me to contribute £10 towards the carriage charges. I pointed out to him that the battery was faulty, to which he replied the battery was not faulty it was the connector on the top. I replied the product was faulty,and it is not my responsablity to check if connections were loose inside the battery connector, and I was not prepared to pay another carriage charge as the battery was not fit for purpose. At this point,for some reason he asked me if I had brought a bike for my child would I have not checked the stabilizers were fixed properly. I decided the conversation was getting nowhere, so I once again informed him that I had no attention of paying carriage, as the product was faulty. He then put me on hold, after sevaral minutes he returned and I was abruptly Informed, that they would refund my card and put the phone down on me. Service Manager ?
1
GM - Lymington -

Battery. Arrived fully charged and ready to go. Worked well
5
RB - Reading -

battery gave out on me after 6 months regular use, returned it, tested faulty and had replacement sent immediately. very good service
5
ID - Dorchester -

Great battery and delivered within two days.
5
BG - Westhill -

Battery seems perfect replacement for tired battery, well used. Does 18 holes with no problem, good job!!
5
DB - Frodsham -

Great service and good value product.
5
DM - Glasgow -

ok to now.
4
TL - Wirral -

One of the other reviewers said they had not realised how bad the old battery was and I now know the feeling. Bags of power and it has given a new lease of life to the trolley, just wish it could do the same for my short game!
5
DD - Newcastle upon Tyne -

The price and delivery of this product left nothing to complain about however imagine my disappointment when having been fully charged the battery on the first outing kept cutting out and left me fiddleing with the connection to get it going again. On returning home I checked and found that the T Bar had not been secured properly and when I rectified this it has worked perfectly ever since. I would definitely recommend this product to anyone.
4
KR - Northwich -

good so far 4 rounds feels very powerful at the end of 18
4
BH - Rochester -

Early stages . But up to now having no problems 18holes easy thanks Ian.
5
is - Aberdeenshire -

Purchased Battery, Charger & T bar lead for Powakaddy Freeway golf trolley, Have used several times so far with excellent performance.
5
BR - West Midlands -

Didn't realize the old battery was so weak until I fitted the new one.
5
DE - Avon -

Early days yet but have used it for a few rounds of golf and it performs well with no sign of losing power. Delivery from Wales to Scotland in under 24 hours. Very happy.
5
DH - Ayr -

on the firs outing the battery was not working all the time. I thought I had faulty equipment. but finally the battery was wrong The T bar was not tightened
1
MLF - Guildford -