Reviews of
Lucas 18 Hole Golf Battery 26Ah (LSLC26-12G)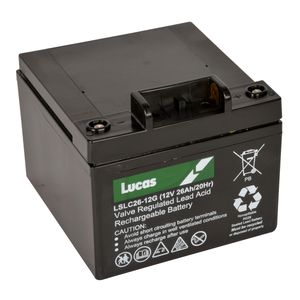 Lucas 18 Hole Golf Battery 26Ah (LSLC26-12G)
Our Price: £51.95 inc VAT

(4.6 / 5.0) Average Rating:
Total Reviews:342
Customer Reviews
OK
5
Rob Prudon - Nijmegen -

fitted perfect also fitted my powacaddy battery bag
5
George Fergie - Ormiston East Lothian Scotland -

Excellent speedy delivery, battery good used on 63 holes in four days. would use again
5
Alan Rowbottom - Leatherhead -

good price and great service
5
robert kenyon - Lancashire -

Arrived in double quick time , well protected and packed .
5
Nick Hacker - East Riding of Yorkshire -

So far so good a couple of full rounds plus a couple of 9 holes. Perfect match to my Powakaddy cart replaced the original Yaseu battery.
5
Dennis Smith - Portishead -

Battery arrived on time and very well packaged, with clear instructions. It was just as described and works perfectly. Would definitely go to Tanya again first for future batteries.
5
Edward Wragg - Abingdon -

The order was simple and all promises were met. I can certainly recommend this company to anyone who needs batteries.
5
Mr Mccaffery - Corsham -

I am very happy for the new batteri and been satisfied With the prompt service from you Thank you
5
Yan Hagen - Frederiksværk -

Great battery and service but I wish they told me I needed to buy the lucas powercaddy t-bar. Was advised I could use the one I had but it's a different make so didn't fit. Had to pay another £4.00 for P&P and wait another 4 days.
5
Mr Ian Hogg - Farnham -

battery just the job,seriously quick delivery
5
D Steadman - Consett -

Very good swift response
5
shorne - Ipswich -

Replaced a 20ahr battery on my Hillbilly trolley. We have a hilly course and the smaller battery struggled to get all the way round. No problems with this one. Power to spare. When fitting in the Hillbilly tray the battery has to be rotated 90 degrees placing the battery contacts in the side. I had to lengthen one of the battery leads to allow the torberry connector to reach the connector on the trolley. If possible buy a connecter lead longer than 25 cm to avoid having to do this. Excellent super fast service. Ordered noon one day, on the course with it 1pm the next day! Fantastic !
5
Rodney Thomas - Monmouthshire -

Batteries arrived very quickly. The dimensions were very slightly bigger than the Sonnenshine they replaced. Slight modifications required but the batteries represent excellent value.
5
Michael Anthony - Hove -

Excellent performance. And delivered next day. Courier went to wrong flat and I had to go to their depot but not your problem
5
Alex Benney - Portsmouth -

First class battery more than does the job.
5
MR A Wagstaffe - Doncaster -

Customer service 5 star,delivery 5 star, price 5 star. Only used the battery 6 times but has a lot of power left after 18 holes. My golf friends have been impressed with the price and performance that one has purchased a battery from Tayna Batteries
5
Norman Laybourne - Broadstone -

Good price and good service
5
KJ - Hants -

I ordered the battery because I was given the wrong information by one of your staff.Having received it I realised the connecter I had would not fit - so I ordered a power caddy connecter from you.You have taken the money and postage and package £8.18. for this - but I still have not received it - having waited 21 days - and I am still waiting for a refund from you for the connecter in spite of many phone calls.
1
Mrs. V. W. Lee - Warrington -

Good product & price & quick delivery
4
Jane collins - West yorkshire -