Reviews of
Numax CXV24MF Sealed Leisure Battery 12V 80Ah 780MCA 500 Cycles XV24MF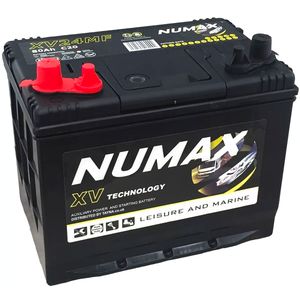 Numax CXV24MF Sealed Leisure Battery 12V 80Ah 780MCA 500 Cycles XV24MF
Our Price: £74.45 inc VAT

(4.9 / 5.0) Average Rating:
Total Reviews:562
Customer Reviews
Delivered on time and well packaged. Great service
5
pw - READING, United Kingdom -

These three CXV24MF batteries are replacements for ones I bought some 7 years ago for my motorhome. I cannot say if these will last as well, but I expect so. Delivery was prompt. The only problem I had was that the hole/fitting for the vent tubes is different from my old ones and I had to fiddle around to get my existing tubes to fit. This is not Tanya's fault, but detailed photos on their website would have enabled me to know that I should have ordered new vent tubes.
5
JB - Whitby, United Kingdom -

excellent service as we expect from tanya
5
MGRS - Leeds, United Kingdom -

Have used Tayna a few times before over several years and always had excellent service. One VERY small gripe with this order was that one of my two batteries only had its plastic insulator on the positive terminal, the negative one was missing. I like to retain these for when they are in storage over winter.
5
MB - Longfield, United Kingdom -

Great
4
MW - Maryport, United Kingdom -

Bought to replace a 13 year old Numax Battery that did sterling service. This one works exactly as it should. It starts the boat within seconds. Excellent !
5
ST - SOMERSET, United Kingdom -

Only just fitted these batteries and found the screwed connector posts to be a tad short. I have thick connectors on my linking cables and there was only just enough thread to get the securing nut on. The old powerline batteries I took out had posts about 5mm longer.
4
MH - Dorset, United Kingdom -

My second time buying leisure marine batteries and yet again the perfect service from Tayna. Good prices, an easy to use website, quick delivery, battery well packaged, everything happened exactly as they said it would. I did some price checking before each of my purchases but couldn't find anything cheaper than Tayna - and they certainly have a very extensive and comprehensive range of batteries so I have been able to find exactly what I am looking for without having to compromise. Graham, Glasgow.
5
GR - Glasgow, United Kingdom -

Bought two of these to fit to a service van for an inverter. Excellent price and really good performance.
5
MC - Morpeth, United Kingdom -

Very pleased with the service offered,battery arrived in good time and extremely well packaged,easy to recommend this seller A+
5
MCC - Cornwall, United Kingdom -

I have only just fitted it but so far so good.
5
SR - Brecon, United Kingdom -

1.I haven't connected the battery up yet so cannot comment on its function. It looks to be in good order. 2.It arrived in a timely manner. 3.I was disappointed with the packaging which easily broke up into tiny plastic balls and was hard to clear away from my boat. We have enough problems with plastic in the oceans without adding to it and I fear some of the plastic may have escaped into the marina water despite me taking great care.
3
GS - Cupar, United Kingdom -

Excellent quality excellent service speedy and prompt delivery well packed will use again and recommend to others.
5
MGRS - Leeds, United Kingdom -

Excellent service - battery turned up very quickly
5
MG - Aberdeenshire, United Kingdom -

Bought to power an electric outboard motor on the dinghy. Delivered ready for use but requiring a top up charge which took longer than expected. So far has performed as expected but will need several uses before a judgement about long term performance can be made
5
MPH - Worcester Park, United Kingdom -

Excellent service, the battery arrived within 2 days of purchase, Thank you .
5
PD - St Esteben, France -

fitted to disco, 4 pot 2.5 tdi (1996) Fitted easly into place. Transformed the starting, brill. (don't think i ever heard it start so well in seven years of ownership) -7 last week, glow plugs went out, turn key and fired instantly! removed a bosh one which was no comparrison. Very happy.
5
RB - Airdrie, United Kingdom -

very pleased with the service battery arrived on time and well packaged
5
CAS - Chorley, United Kingdom -

Been on my ride on mower now for about three years. Still working fine. Good prompt delivery and good price.
5
JP - Chesterfield -

Fantastic service. Battery recieved within 2 days of ordering to a rural hamlet in France. Exactly as described Excellent service Thank you
5
LA - Lathus St Remy -