Reviews of
Pair of Lucas 22Ah Battery LSLC22-12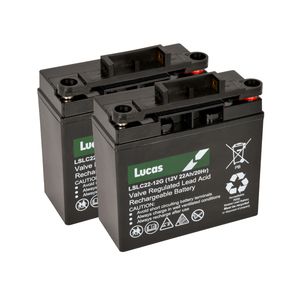 Pair of Lucas 22Ah Battery LSLC22-12
Our Price: £76.95 inc VAT

(5.0 / 5.0) Average Rating:
Total Reviews:13
Customer Reviews
I brought a pair of these in 2016 for UPS testing and a pair to run my own ups and they all have worked tirelessly and without any issues for years.... the test batteries have alas at last started to struggle with constant full charge and discharge cycles, so these babies have more than done there duty... the ups pair are still working just as well 5 years later on an APC ups withbthe correct battery voltage of 13.8 volts per battery and not the 14.4...... I just brough another pair as these have been reliable and resilient to constant charge and discharge cycles almost daily and worth every penny paid..... if you need the extra 5Ah over the standard APC RBC for extra run time at full load..... get these and never look back..... my orders have always been timely and great for the price
5
JM - Wallington, United Kingdom -

Fitted To: Apc RBC 7
Very good service and excellent delivery thank you will order wen next needed
5
BL - chichester. west Sussex, United Kingdom -

Fitted To: Self made window cleaning machine
Excellent service, good price and next day delivery ,battery's work perfectly, what more can I say.Thank You Brian
5
BB - Cambridge, United Kingdom -

Fitted To: Explorer 4 ?
Excellent delivery and price,would recommend You to all.
5
DH - Liverpool, United Kingdom -

Superb product, Delivery times superb also Highly recommend. Not used for mobility
5
sb - Cardigan, United Kingdom -

Absolutely fantastic delivery service
5
TP - Cannock, United Kingdom -

Fitted To: Golf trolley POWAKADDY
Fantastic service great product was helped by Kai who put me at ease with my order and helped me choose correct product superb customer skills thankyou W. Ball
5
BB - West Midlands -

Fitted To: Fairway rider G3
Excellent service from Tayna - telephoned one day and got batteries the next day. Really efficient and helpful when I telephoned - well done!
5
KW - Wingate -

Excellent support and information, quick delivery, we are delighted on every aspect of this purchase, have already placed my next order for a car battery based on this experience.
5
JS - Studley -

Fitted To: GoGo Elite Sport
very good
5
DPK - Walsall -

ordered Friday was told I would receive batters on Monday but received them by 10 am Saturday put batters on charge for a few hours great service I am well pleased
5
JS - Newcastle upon Tyne -

Fitted To: shop rider
5* service,excellent comms,very fast delivery.Will use again.
5
rm - Gloucestershire -

Fitted To: Shop rider Delux
I brought these as a far cheaper alternative to the APC RBC7 battery pack from APC. Saved myself almost 50% (cheapest price) of the cost and I got an additional 20% runtime out of the deal!. These Lucas batteries are far better equipped to deliver the full load current (43.5 Amps) of my UPS at max output 988 watts. The APC 12 Volt 17Ah battery drop test topped out at 63 Amps before The voltage dropped below 11 Volts, but these Lucas 12 volt batteries kept going to 76 Amps peak. True they have a better Amp-Hour rating for the same foot-print over the APC (Unbranded) version, but it allowed my UPS to run another 9 minutes after a full mains failure. From selection to purchase, it was straight forward although the battery tech stuff needed a visit to the Lucas website. I was shocked how quick and punctual the delivery was too (1 day). What really made me a happy bunny was the level of packaging they came in.... Top service, top price and top hole Tayna! If you are due to swap your old UPS batteries, come here first! Saves you at least half the price and you can find a better replacement if you know what your doing.
5
JM - Wallington -

Fitted To: APC UPS SAU1500I