Reviews of
51913 (NTS51913) Sealed Numax Motorbike Battery MB12V20P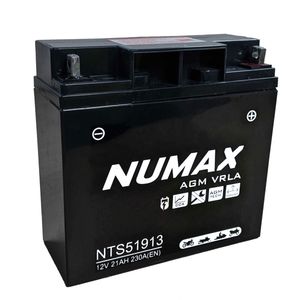 51913 (NTS51913) Sealed Numax Motorbike Battery MB12V20P
Our Price: £42.95 inc VAT

(4.6 / 5.0) Average Rating:
Total Reviews:29
Customer Reviews
Phoned your office and got through to Yasmine. She was very polite and helpful I told her what I needed and was asked fro my reg for motorcycle. After giving it she found my correct battery. I asked if it could be delivered on a Saturday as I work away Mon to Friday she informed me I could but it would be delivered the following Saturday. On awaking the next morning which was a Saturday I had a knock on the door my battery arrived a week early from start to finish it is the best service I've ever had from a very helpful Yasmine to delivery a very good experience I've left a 5* also on trust pilot
5
TH - Liverpool, United Kingdom -

Fitted To: Bmw Rt1200r 1200 06
Old battery was letting me down. Chose this one, it fits, it works, it's reasonably priced, what more could I want. Have purchased here before, same service received. Very rapid delivery of product, with minimum fuss.
5
MML - Lincolnshire, United Kingdom -

Fitted To: BMW R1100S 1085 1998
Was as described, worked, fitted & arrived on time
5
Lg - Leicester, United Kingdom -

Fitted to my BMW K75 to replace a 10 year old Varta wet battery. I wanted an AGM battery, and I know this size has been used by a local bike shop, but was much more expensive through them. Tanya was much better on price. Being dimensionally smaller than the original, though a similar height, this battery was an easy fit with no changes required to the clamp. Bike started first spin, with plenty of battery power available. The only drawback so far is that the original battery has terminal covers that prevent accidental shorting, so some additional protection is required. Very happy with delivery, as it arrived the next day. Only time will tell if it lasts as long as it's predecessor.
5
GW - Taunton, United Kingdom -

Fitted To: BMW K75 750 1990
Does what it says on the tin
5
DL - Camborne, United Kingdom -

The correct battery at a good price delivered on time. Now in use for two years, no problems.
5
PM - London, United Kingdom -

Fitted To: BMW R1200RT 1200 09
Far too early to say if this battery is any good, I wont risk anymore than one star at this stage as I have been very dissapointed with lawntractor batteries in the past. What I will say is I received Excellent service from Tayna, they sure know what they are doing, they answer the telephone promptly, they know their products really well and are very helpful, bought this battery from Tayna cheaper than I could buy it anywhere else.
1
RA - Saracens Head, United Kingdom -

Fitted To: Mountfield Lawntractor 1530H 700cc 2018
Exactly as original. Good price Rapid delivery All good
5
HM - Ardgay, United Kingdom -

Fitted To: Rescue pack Sealey 3000 N/a 2020
Good value and first class delivery. Slightly bigger size than asked for but no real problem, minor alterations battery clamp
4
MS - Wigan, United Kingdom -

Failed after 8 months. Avoid and buy a better one.
1
MF - West Midlands, United Kingdom -

Fitted To: BMW R1100S 11p0 T
Battery was 1/2 the size of the original so fitted in so much easier.
5
ph - Sheffield, United Kingdom -

Fitted To: Bmw R100s 1000 W
Great value and speedy delivery
5
Mq - Warrington, United Kingdom -

Fitted To: Bmw R100rt 1000 1980
Battery fitted good, lot's of power to start my bike and very good service thank on delivery.
5
GM - Gloucestershire, United Kingdom -

Fitted To: Bmw R1150R 1150 02 reg
I have used batteries from this company for several years now, on various motorcycles ranging from my bmw r1100 to my classic norton commando. There are plenty of types/ brands to choose from should you prefer a particular brand All with prompt delivery and prices that won't break the bank blu
5
be - Croydon, United Kingdom -

Fitted To: bmw r1100rt 1100cc 89
Exactly as advertised. Excellent protective packaging with quick delivery. Battery did need a short top-up charge before installing but probably would have had enough juice to start the motorcycle and let the bike finish the charge.
5
JS - APO, USA -

Fitted To: BMW R1200RT 1200 2009
Battery spot on but let down by Yodel. Had to chase them. Battery had been shipped to their Aberdeen branch instead of Gloucester! Took over a week to arrive. Two previous orderes from Tanya have arrived next day even though ordered in the afternoon and in this case Tanya shipped almost immediate.
5
SE - glos, United Kingdom -

Fitted To: BMW R1150R 1150 02
Bmw r1100rt, abs lights not resetting, new battery fitted, abs now absolutely fine, starts a treat too
5
dh - Northolt, United Kingdom -

Fitted To: Bw R1100rt 1100 1997
Same no as old battery but slightly smaller just had to alter securing bkt but fitted OK.
4
mt - Wrexham, United Kingdom -

Fitted To: Morini Sport 350 1977
Excellent service, support and delivery
5
Mq - Warrington, United Kingdom -

Fitted To: Bmw 1100rt
very good for Bmw R850 R
5
Mak - Nottingham, United Kingdom -

Fitted To: bmw r 850 R 850 12345