Reviews of
CTEK MXS 5.0 12V Charger and Conditioner MULTI XS 5.0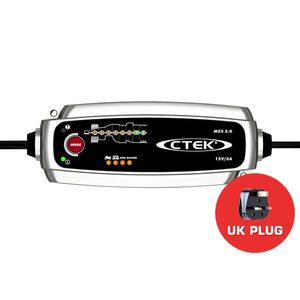 CTEK MXS 5.0 12V Charger and Conditioner MULTI XS 5.0
Our Price: £62.95 inc VAT

(4.9 / 5.0) Average Rating:
Total Reviews:410
Customer Reviews
Purchased this ctek 5.0 charger for daughter's mini, as not used much due to university. Superb charger, went through all stages lighting led's and finally reached point 7 after approx 9 hrs. You can leave connected as the charger monitors voltage and will pulse charge as required automatically when led 8 is lit. Feel this is much more controlled than my previous old 30year charger. Thanks Tanya, great price and quick well packaged delivery.
5
NE - Shrewsbury, United Kingdom -

Bought this charger for my Range Rover 3.6 v8 Engine stop start Giant Battery.vehicle has not been used or run for 6 weeks.battery too low to Start.Used charger for 1 hour and started first time.Excellent.
5
RG - Accrington, United Kingdom -

Does the job and Tanya cheaper than amazo
5
Iw - Middlesbrough, United Kingdom -

Excellent product, does what it says, purchased for Jaguar start- stop (as available from JLR). Top service and price from Tanya.
5
SG - Peterhead, United Kingdom -

This neat charger stopped my "Low Battery Charge" messages. I do lots of short trips and instead of unnecessarily going further, I purchased this and pleased I did. It is tiny compared with my deceased 40yr old Halfords one, works well and keeps me informed of its progress. An additional small lead can be wired to the battery allowing simple connection for occasional overnight top ups and no need for croc/alligator clips or battery cover removal. It did seem a little expensive, but offset by not needing to charge by way of extra, longer trips. Very pleased with charger and rapid delivery.
5
MPF - Wiltshire, United Kingdom -

good service and post
5
SW - Wrexham, United Kingdom -

Excellemt advice and service from Tanya. The CETEK battery charger/ conditioner was excellent. It was very simple to use and effective bringing a depleted expensive AGM battery back from the dead. The CTEK paid for itself straight away managing to do the job that my two other chargers could not do.
5
MH - Norwich, United Kingdom -

Had one of these for a while. Bought another for my disabled Mum as she uses her car infrequently and sometimes finds her car battery flat when she needs to use her car. Now she can be reassured that the battery will always be charged when she needs to go somewhere. Good quality product.
5
PO - Warrington, United Kingdom -

Tayna absolutely brilliant in their prompt advice and prompt delivery. Purchased this after additional advice from Honest John of the Telegraph Week end Newspaper. With regard to the charger unit again brilliant and easy to follow setting up instructions. Particularly impressed with the eyelet tails easily fixed to the battery terminals.This as an alternative to the crocodile (also supplied) means at charging time it is just "plug and play" and with no possibility of incorrect polarity, Charging times are as stated in the instruction manual. Thank you TAYNA
5
DO - Weston-super-Mare, United Kingdom -

I have an old Porsche that is not used much and as a result the battery had been running down. So far this seems to be keeping the battery in top condition and I should have invested in this years ago
5
RS - TADWORTH, United Kingdom -

Excellent product, good value and good customer service. Quick delivery too. Highly recommend both product and supplier.
5
NA - Durham, United Kingdom -

Just used it for the first time, works well, would recommend to anyone wanting a battery charger conditioner!!!!!
5
MY - NOTTINGHAMSHIRE, United Kingdom -

Brilliant little chargers, I have 5...
5
CB - Lichfield, United Kingdom -

Purchased to charge bmw agm stop/start battery. Have also used it to charge lawn tractor battery. Worth the money.
5
LM - Goodwick , United Kingdom -

Good product & well made. Easy to set up & use. Only problem for me is that the connection leads to the car battery are very short - battery is on LH side & in garage I can only access RH side - so I have extended the permanent lead to the battery. Pleased with ordering & supply of this charger - will use company again if I need battery or related parts.
4
MS - Birmingham, United Kingdom -

I bought this as my current CTEK is not suitable for agm batteries. I do low mileage in my BMW 330i and end up with battery warning messages. This MXS 5. 0 has fully restored the battery and the stop start was working within a couple of miles from home despite the car standing for a week. Excellent results and fully recommended.
5
CJW - Somerset, United Kingdom -

first class have dealt with this company before batteries ect came next day ideal for a motorhome as you can leave it on your vehicle when laid up without worry of overcharging or battery going flat have purchased leisure batteries from this company in the past
5
jk - Dorset, United Kingdom -

Great product at a very competitive price, very pleased.
5
MM - West Lothian, United Kingdom -

Perfect for my BMW 3 Series. Ideal for maintaining AGM batteries on cars with stop/start technology.
5
ND - Warwickshire, United Kingdom -

Great product, quick delivery. Recomend them.
5
AH - Leighton Buzzard, United Kingdom -