Reviews of
CTEK MXS 5.0 12V Charger and Conditioner MULTI XS 5.0 (56-975)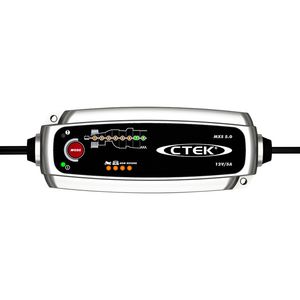 CTEK MXS 5.0 12V Charger and Conditioner MULTI XS 5.0 (56-975)
Our Price: £63.99 inc VAT

(4.9 / 5.0) Average Rating:
Total Reviews:642
Customer Reviews
Seems to exactly do the the job it's inteneded for.
5
BP - Bridgwater, United Kingdom -

Great wished I'd of gone 1 yrs ago
5
MLT - Stoke-on-Trent, United Kingdom -

Great price, cheapest for miles around, prompt delivery, used it yesterday 21/01/21, as my car battery (Ford Focus 1.5 TDCI) at 50% charge, as car had not been used for several days, topped it up to full charge in just under 4 hours.
5
PP - Berkshire, United Kingdom -

Does the job and does it well.
5
PS - Bucks, United Kingdom -

Excellent charger for maintaining a battery
5
RB - Knebworth, United Kingdom -

Purchased this battery charger from Tayna batteries and their service was excellent. A little disappointed with the product as the buttons are on the small side, also I brought this product thinking it was made in Europe but on inspection after it arrived I found it is made in China, so will have to see how long it lasts. I would have looked at other makes and brought one if I'd known they're made in China. Can the country of manufacture be made clear on the product's being sold so that the customer can make an informed decision on purchasing? I have brought products before from Tayna Batteries and always had excellent service from them and will continue to do so. Many thanks Steve
4
ST - Wolverhampton , United Kingdom -

Brilliant. Using it to keep the battery in a Discovery Sport topped up during lockdown. No longer getting battery low warnings and stop/start is working again.
5
DS - Bonnyrigg, United Kingdom -

They do what they say they will ; On time, On Price, On Quality. Many thanks !
5
JC - Glasgow, United Kingdom -

Great charger fit and forget. Takes care of any type of battery. Excellent service from Tanya batteries as always.
5
Km - Callander, United Kingdom -

Great charger and has been heavily used with our fleet! of cars. Regenerated batteries that I thought were dead. As per usual great service from Tanya, with their despatch and delivery system up to the normal efficiency.
5
PR - Powys, United Kingdom -

Top product and first class service from tayna
5
Rt - Scunthorpe, United Kingdom -

I'd already reviewed this product on Google shopping reviews as follows: (As you'll understand I've used '+' to denote a good attribute below & '-' to denote a bad one.) I've only used it once so this review is strictly premature - ask me again after 5 years. (I can give a much better-qualified review of my old Bradex charger from the 1970s, that's still going strong.) + Simple to use. + Seems well made and high quality. + Reasonably water resistant for its intended use (IP65 ingress protection rating) + VERY much smaller & lighter than the older fashioned battery chargers from the 1970s, also seems much safer with sophisticated safety features e.g. to prevent sparks if used as instructed. + Recommended by various reviewers, magazine comparisons. + Suitable for charging various car & motorcycle batteries. + 5 year warranty + Useful charging features, e.g. battery reconditioning. + 2 holes that could possibly be used to mount on a vertical or horizontal surface - but not advertised as such. + comes with plug-in insulated crocodile clips and plug-in eyelet connectors that can be robustly screwed onto battery terminals. + comes with drawstring storage bag neither good or bad: it's a Swedish designed product manufactured in China. - very small indicator lights, text, symbols and makings on unit that would be hard to read without good eyesight. - the aforementioned text, symbols and markings on the unit do look very much as though they would get worn off the surface with repeated use, particularly if exposed to e.g. greasy/oily fingers. - the product looks as though it's plastic body would be damaged if it was dropped or scratched against hard rough surfaces or if anything hard & heavy dropped on it. - according to reputable reviews online e.g. AutoExpress does not deliver the full advertised charging current of 5 Amps in practice (just like every other reviewed charger)
3
SH - Abergele, United Kingdom -

Found that Tanya provided a great service with a very speedy delivery, the product worked just great, I think that it will help me to keep my battery in top condition throughout the current lockdown. Highly recommended.
5
TR - Saxmundham, United Kingdom -

The product itself is great, the additional convenience kit also a bonus, albeit, open ended eye's would have helped to fit it to the battery post securing nuts! Feedback for Tayna themselves, the guy I spoke to for tech support was blunt to say the least and of no help.
5
DM - Sidcup, United Kingdom -

Great charger, battery had gone down to 10% but this charger brought it back from the dead
5
jk - New Malden, United Kingdom -

Quick delivery, good product, easy to use, worked well and helped to sort/charge a previously "dead" car battery. It's now on the "maintain" cycle as I'm not currently using the car much...thanks to Lockdown.
5
RH - Newton Abbot, United Kingdom -

with current lockdown rules the bmw agm battery kept on showing messages of low battery after a short run to the shops , I connected the battery conditioner / standby charger each time i leave the car and no problems it keeps the battery fully charged .. I am thinking of getting a second for the ranger rover
5
rJ - kington, United Kingdom -

Unbeatable price and service Well done Tayna
5
RP - Pudsey, United Kingdom -

This CTEK MXS 5.0 Charger is so much better than my old charger which is quite old now. The CTEK is well built, easy to use and compact. I can recommend this to anyone who is considering a new charger.
5
LM - OVERTON MORECAMBE, United Kingdom -

Purchased item to provide trickle charge to my newly purchase car battery also from Tayna. Item was secured packaged and instructions very easy to follow. So far no issues to report.
5
RB - Halifax, United Kingdom -