Reviews of
CTEK MXS 5.0 12V Charger and Conditioner MULTI XS 5.0 (56-975)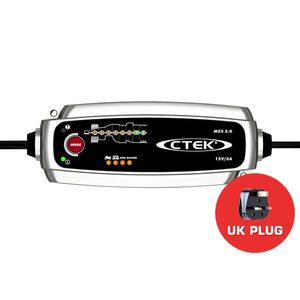 CTEK MXS 5.0 12V Charger and Conditioner MULTI XS 5.0 (56-975)
Our Price: £67.99 inc VAT

(4.9 / 5.0) Average Rating:
Total Reviews:533
Customer Reviews
Very good charger worked fine,got charger next day great service.
5
pb - Staffordshire, United Kingdom -

great service good advice quick dispatch
5
PW - Liss, United Kingdom -

These chargers are not cheap, but are very good. We were recommended to buy this and are glad we did. It charges and conditions and checks the battery health. I also believe if the battery has a problem, the charger can help to sort this. I think it was a smart buy.
5
DH - Staffordshire, United Kingdom -

Good price quick service will definitely use again
5
MH - Potters Bar, United Kingdom -

Excellent product package ideal for low useage vehicles, as endorsed by Harry Metcalfe of Harry's Garage fame
5
JF - N/A, United Kingdom -

Excellent item at a very good price. The charger is technically sound and comes with a storage bag. It rejuvenated my two motorhome batteries that had gone flat in the lockdown. Good information booklet.
5
IC - Bury St Edmunds, United Kingdom -

Used it for first time ... instructions were limited. When to stop charging? Would it turn off automatically? Appeared to charge sufficiently but with AGM battery no indication when fully charged and they are sensitive to overcharging. Is my battery fully charged ..no idea but at least its got some charge after car being standing idle.
4
cb - SOUTHAMPTON, United Kingdom -

Quite expensive, as are some of the accessories for it. However well made with various charging options for different batteries. Good instructions. Using it to keep a 2014 Jaguar XF AGM battery topped up and is working well. A useful accessory is the comfort cable that has LED's to show current battery condition. The cable that came with charger doesn't have the LED's so a worthwhile addition.
5
WG - West kilbride, United Kingdom -

great charger, worked on my caravan leisure battery, car AGM and small motorcycle battery. the Recon bit works well.
5
NT - Wiltshire, United Kingdom -

Great piece of kit compact but does everything you need it to UK plug was a nice touch. The conditioning setting saved me the cost of a new AGM stop/start battery at half the price. The online reviews from previous customers for both the product and the company service were a major factor in my purchase and I was not disappointed. No hesitation in giving the product and the company a major thumbs up!
5
BM - North Wales, United Kingdom -

Excellent product, faultless customer service.
5
KW - Longfield, United Kingdom -

I have only used this new charger once and it worked well. The delivery was swift. The quality of the charger is very good. Time will tell. I'm glad that it defaults to car charging, meaning that I do not have to keep using the mode button to move from motorbike to car charging, as I have read that the failure of this button has been a problem on earlier chargers. The leads with the croc clips could do with being longer as I charge from an earth and positive point under the bonnet with the battery in the boot.
5
SM - Eastleigh, United Kingdom -

Have been using CTEK chargers for some time. They are by far the best on the market. Only criticism is that the wires to and from the charger could be longer to allow a more convenient placing of the unit.
5
J - Suffolk, United Kingdom -

Very satisfied with the battery charger. Great service by seller, excellent price, and very quick delivery.
5
NN - Nottinghamshire, United Kingdom -

<my previous CTEK lasted >5 years and when it died I researched replacement. The new model has a couple of improvements and works fine.
5
CW - Church Stretton, United Kingdom -

A fantastic charger for cars that don't get used as often as they should. Easy to use, just plug it in and let it do it's thing. Comes with straight forward instructions, and a variety of ways to attach the charger to your battery. Not the cheapest, however you get what you pay for. The only brand I would trust to charge my vehicle's battery.
5
JJR - West Lothian, United Kingdom -

Bought from Tayna Batteries and delivered a day earlier than anticipated. First class product and service.
5
PT - Arborfield, United Kingdom -

Absolutely brilliant item, looks small and neat and does the job perfectly. I would definitely recommend!
5
SC - Devon, United Kingdom -

Thank you for responding so quickly to my order.Very pleased with the charger.
5
GS - Beaminster, United Kingdom -

Works perfectly and arrived quickly.
5
IW - Derbyshire, United Kingdom -