Reviews of
Numax Leisure Battery Charger 12V 10A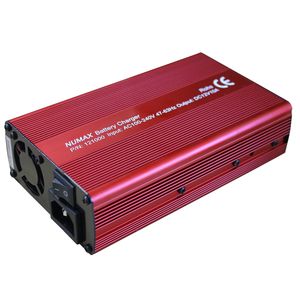 Numax Leisure Battery Charger 12V 10A
Our Price: £59.99 inc VAT

(4.8 / 5.0) Average Rating:
Total Reviews:285
Customer Reviews
Installed in my VW camper to maintain my 110 ah Leisure battery whilst in the garage in storage or on a site with EHU to make sure the battery is ready when parked up off a campsite. Works very well, two comments 1) No Instructions included -whilst its obviously very easy to install there is little information on what the colour of the lights mean - nothing in the box explains the significance. 2) When I am using the electric fridge in the van and using 12v supply and on EHU the fan comes on within the charger to cool it down and although its not noisy its quite audible. Easily solved by making sure I switch the fridge to main supply then the charger won't need to power the fridge! Will be intersting to see if the fan comes on when I am using LED lights or the stereo when parked up and plugged in. Some sort of bracket as an accessory would be great to attach to the van interior on a semi permanent basis- I have it resting on its side on the floor so I can see the display and double sided tape holding it against the van, a screw on bracket would be better and haven't had a chance to rig something.
4
ab - farnham, United Kingdom -

Good product , works as expected
5
DS - West Midlands, United Kingdom -

Excellent little charger to replace the old antiquated one in the campervan
5
LM - Durham, United Kingdom -

Only used it once so far ,solidly made unit with good charging led lights to inform you state of charge
5
TW - GLASGOW, United Kingdom -

I bought this charger to keep my new leisure battery (also bought from Tayna - EXV115R Enduroline Calcium Leisure Battery 12V) in good shape ready for when I can be safely released from lockdown and tour in Europe again. Tayna's website is really good with lots of relevant information on all their products. I had one query about this charger which they responded to promptly. Delivery was very quick. So far the charger is working well with its float charging function keeping my battery fully charged. I can thoroughly recommend this company and will certainly use them again myself.
5
WF - CHESTERFIELD, United Kingdom -

Does everything it said it would do.,
5
GP - Lancashire, United Kingdom -

Does all as supposed to, compact good looking unit with near silent cooling fan
5
sH - romney marsh, United Kingdom -

Not really used it yet, was hoping it might revive my old battery which now only seems to hold a surface charge but it hasn't. Not a problem as I bought it primarily to replace the rubbish maintenance charger I bought elsewhere so I can properly maintain the replacement battery I just bought over winter months &/or when not in use for extended periods.
4
MK - Braintree, United Kingdom -

solid bit of kit... keeps my camper van batteries healthy :)) ... float charge very useful topping up inactive batteries
5
tw - Colchester, United Kingdom -

First class product. Ticks all boxes. Service excellent nothing to criticise .
5
am - Wallasey, United Kingdom -

Smaller than I thought. Fitted under the passenger seat of a T5. Wired straight in to the leisure battery which I also purchased. Works well in these testing lock down times. ?
4
DO - Wareham, United Kingdom -

Excellent product .****
5
SH - Cromer, United Kingdom -

Great piece of kit. My leisure battery had gone absolutely flat so I presumed it was useless but, having left it on charge for 2 days its is fully restored! Can highly recomend this charger and the service and advice given from Tanya batteries
5
DL - Stockport, United Kingdom -

Good bit of kit. Looks well made and easy to use. I have charged battery and have it on trickle. I was worried it may get hot but it doesn't.
5
SI - Horley, United Kingdom -

GREAT SERVICE! GREAT PRODUCT! A++++
5
SB - Billingham, United Kingdom -

Fist class product fast delivery
5
dm - South Yorkshire, United Kingdom -

First time I've used this brand so time will tell. Easy to use
4
PH - Peterborough, United Kingdom -

Good product with excellent customer service.
5
AC - Cannock, United Kingdom -

Seems a good product and certainly is what I was looking for in order to preserve the condition of my caravan battery, and at a good price compared with other sellers. When I connected it up the display reflected the battery status and the subsequent charging stages as described in the instruction sheet. However, the red and green LED's remained illuminated continually, irrespective of the charging status, which was not as described in the instruction sheet. I discussed this with Tayna's technical support and it was suggested that the charger should be returned to them for testing. It was collected a couple of days later and a few days after that I received an update that the charger was working correctly, including the LED indicators. I was offered a refund, or the return of the charger, and I have opted for the latter and will be interested to see how it works now. I have been very impressed with Tayna's after sales support and the communication throughout the investigation and returns process has been excellent.
4
RA - Telford, United Kingdom -

Worked well on my boat.
5
PH - Ashford, United Kingdom -