Reviews of
005L Enduroline Car Battery 12V 60Ah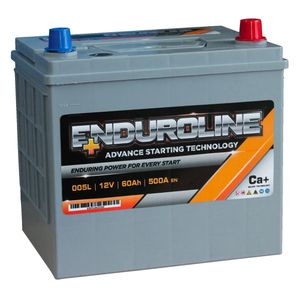 005L Enduroline Car Battery 12V 60Ah
Our Price: £49.99 inc VAT

(4.8 / 5.0) Average Rating:
Total Reviews:237
Customer Reviews
I simply cannot fault the efficiency and ease of using your Tanya Batteries website Order page; similarly, the quality of the Enduroline Battery recommended to me; and the totally professional and efficient manner in which my order was handled by by Tanya, and similarly your Courier! 24 hour delivery really meant 24 hour delivery!. Most importantly too, your extremely realistic price for the new battery and delivery has saved me a very considerable sum on this occasion, in contrast to in the past trusting a local garage to charge a fair price! Like heck! I will be definitely contacting Tanya Batteries for the next replacement for one of my other Classic cars! Already, several 'Petrol Head' friends within the two prestige International Owners Classic Car Clubs of which I am a Member have firmly made a note of your firms contact details! David C Burgess.
5
DB - Henlow, United Kingdom -

Fitted To: Toyota Supra Turbo Auto 3 Ltr. Petrol 1992
Had many batteries over the years This is in my Supra Never has one that works so well Good powerful starting every time Great service and delivery from Tayna Thankyou
5
JL - Larne, United Kingdom -

Fitted To: Toyota Supra Turbo 3litre straight six Petrol 1994
Excellent battery. Excellent customer service and packaging. Dispatched ready filled with acid. Need to unseal battery as soon as you get it. Good instructions
5
HP - Lincolnshire, United Kingdom -

Fitted To: Subaru Legacy Spec B 1998 Petrol 2003
great service and price. car off road just for 24 hours.
5
JH - Southampton, United Kingdom -

Good information on the website meant I could choose a non-standard battery for my car, larger and more powerful. It arrived the next day and fitted perfectly. Price was also extremely competitive.
5
BR - Reading, United Kingdom -

Fitted To: Mazda 6 2l Petrol 06
Excellent CCA. Almost starts before I turn key!
5
IF - Epsom, United Kingdom -

Fitted To: Subaru WRX PPP 2.0 Petrol 2003
This the second 005L I've bought for 2 different cars where neither recommends this size/type of battery but with detailed sizes and Ah listed on here I was able to choose this battery as for it's size it was the most powerful. I have a Saab 900Turbo and the correct battery has been out of production for years and needs a special size for it fit and give the power to start it well. I spent a long while to find a battery which fitted the space, gave the required Ah and a reasonable price, the previous battery was a good fit but was only marginal with starting whereas this is way more powerful and much closer to the required Ah, it's slightly larger but still fits very well. This battery has been in the car a year now and is the same as when I installed it, no indication of any problems whatsoever, gives me much confidence in the car starting quickly and running things such as heated seats. The 2nd car is a Mazda 323f V6 for which I bought this battery for, I chose this battery as I was impressed with it's service in the Saab plus it fitted well into the battery tray of the 323 because I took it out of the Saab and tried it to make sure it would be a good fit! (Again thanks to the detailed sizes within the listings luckily the 323f battery space was similar to the size of this battery) It's way over the recommended Ah but I've installed heated seats and a powerful head unit running straight from the battery so it seems to me an ideal choice as again for it's size and price nothing can beat it. Delivery was great as was given a choice of which day to deliver (within reason) plus a text by courier what time of day and both occasions it was exactly when I expected For the requirements I wanted together with the price and delivery I genuinely believe I'm not able to do any better anywhere else, highly recommended and will be back again if I need a battery for a 3rd car I have.
5
TB - Ipswich, United Kingdom -

Fitted To: Saab/Mazda 900 Turbo/323f ZXi 2 litre Petrol 1992/1998
Great battery, very powerful starter
5
DR - Beckenham, United Kingdom -

Fitted To: Toyota Corolla 1.3 Petrol 1992
Needed a specific sized battery for a Japanese import Found it at Tanya At a great price and higher ampage than manufacturers original Job done
5
SK - london, United Kingdom -

Fitted To: Honda ELYSION 3000 Petrol 2006
So far ok .early days yet
5
RK - Crawley, United Kingdom -

Fitted To: Toyota Corrola 1.6 Petrol Y
Excellent service with next day delivery. Online i ordered a Huasa Battery. Within 5 mins of placing the order, Tanya telephoned to inform it was currently out of stock but should be with me in 3 days. Thought I'd check their Website again to see if an alternative was available. Found the Enduroline which offered better cold start cranking with higher amperage. Telephoned Tanya sales-team who confirmed they could next day delivery this battery for the same cost as the Huasa. Fitted the Enduroline easily ( did have to reverse it as the terminals were on the opposite side ). My car started 1st time and have had no issues. Only used it for 2wks, so time will tell but Tanya did say ' any problems please call and we can discuss ' Great professional friendly service. Would highly recommend this company. Mr Parker Staffordshire Sept 2018
5
CP - Stoke-on-Trent, United Kingdom -

Fitted To: Subaru Legacy 3lt Petrol 2004
Tanya's choice was easily the best value battery, cheers.
5
SV - Manchester, United Kingdom -

Fitted To: Subaru Forester 2.0 Petrol 2008
A very well built battery, fantastic service. Excellent packing and instructions. Total service in every way.
5
MH - Liverpool, United Kingdom -

Fitted To: Subaru Forester 2.0 Petrol 2007
After lots of searching for the correct battery for my WRX STI Type UK, and I might add that Subaru couldn't even advise me of the correct battery for my car, I had problems with it draining after 6-8 weeks, admitadly I don't do alot of milage but the battery shouldn't be draining that quick, so this was the battery that Tayna recommend for my car and so far it's been fine but I guess time will tell , it is a much higher mah and CCA than the one I had on the car so hopefully problem solved and money well spendt, I would recommend Tayna to anyone looking to buy a new battery for there car , great price , fast next day delivery and very well packed , thanks.
5
SOD - Torfaen, United Kingdom -

Fitted To: Subaru WRX STI 2.5 Petrol 2014
very good well packed came when they said
5
Mpf - Essex, United Kingdom -

Fitted To: kai sportage sportage xs 1995l Petrol 2006
Did the job . Staff fry helpful.
5
MMR - Harrogate, United Kingdom -

Fitted To: Toyota Blade 3500 Petrol 2008
Excellent, fast service, quality battery in great packaging. Recommended seller
5
AC - Dunkeswell, United Kingdom -

Fitted To: Grand Vitara SZ4 Auto 2.4l Petrol 11
Bought for a 2004 Toyota Previa. Fits perfectly, more powerful than the last battery brand which had died within 2.5yrs! Alternator charges it fine (I'd read reviews about mis-sized batteries since as mentioned this has more power than the last), absolutely no issues. The packaging and delivery speed by Tayna was excellent. Would use again and recommend.
5
KR - Bedfordshire, United Kingdom -

Fitted To: Toyota Previa 2399 Petrol 54
Too soon to rate a battery on life a month after purchase and conscious that these batteries have not been around long enough to generate lifetime reviews, but in terms of customer choice (this battery is the right size but actually exceeds the power specification for my MR2 Turbo), customer service from Tayna, and the speedy and secure delivery by courier, I'm happy to give 5 stars. After doing a bit of research on the car's requirements I realised the old battery was a bit under powered in terms of CCA value, so with the Enduroline installed it was noticeable that the car cold started immediately on a cold and damp March day as if warm.
5
DC - Birmingham, United Kingdom -

Fitted To: Toyota MR2 GT Turbo T-Bar 1998cc Petrol 1995
Excellent battery, slightly over spec for the car but better safe the sorry on a cold winter morning. Easy installation, slightly smaller than the one it was replacing room to manoeuvre into the tight space
5
MP - Colchester, United Kingdom -

Fitted To: Subaru Legacy Wagon 1995 Diesel 10