Reviews of
EA770 Exide Premium Car Battery 067TE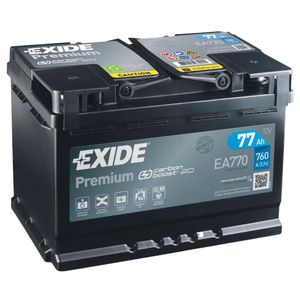 EA770 Exide Premium Car Battery 067TE
Our Price: £67.19 inc VAT

(4.9 / 5.0) Average Rating:
Total Reviews:650
Customer Reviews
Excellent service and communication
5
AM - Worcestershire, United Kingdom -

Fitted To: VW Tiguan 2000 Diesel 2011
Replaced same product. Seems good
5
MH - Newton Abbot, United Kingdom -

Fitted To: Nissan Navara 2.5 Diesel 55
Perfect item and great service - thank you
5
hn - Melksham, United Kingdom -

Fitted To: Mercedes Benz CLS 250 2.1 Diesel 2014
Very good
5
RB - READING, United Kingdom -

Fitted To: Nissan Qashqai 2.0 l Diesel 2008
Excellent price and service, received next day
5
CS - Ceredigion, United Kingdom -

Fitted To: Jeep Grand Cherokee 4.7 litre V8 petrol & lpg Petrol 2001
All 3 of our vehicles have these batteries, supplied by Tanya. The batteries have never caused any issues and crank well even in the coldest of mornings. The service from supplier Tanya is superb with quick despatch and excellent packing. I rate them highly and they are my preferred supplier.
5
MB - Redruth, United Kingdom -

Fitted To: MG ZT-T 2500 Petrol 2005
Express delivery and battery is perfect ,very strong.My Honda Civic 2.2 cdti is very happy?
5
PK - Dorset, United Kingdom -

Fitted To: Honda Civic 2.2 Diesel 2009
Great value and fast delivery
5
AG - Hampshire, United Kingdom -

Fitted To: Saab 93 1.9 Diesel 2007
early days but battery seems good and was MUCH cheaper than my local supplier for the same specification of capacity and cold cranking amps. Also the purchasing process was amazingly effective, and the battery ordered at lunchtime was delivered the next morning by 9am!!
5
BB - Hook, United Kingdom -

Fitted To: Seat Alhambra 2.0 Diesel 2007
Best price around, good service
5
SJ - Abergele, United Kingdom -

Fits perfect in Battery compartment
5
Bt - Worcestershire, United Kingdom -

Fitted To: Jeep Grand Cherokee 4.7 litre Petrol 1999
Good battery, if have any questions in maximum 5 minutes you receive the answers!tnks
5
Gb - Lincoln, United Kingdom -

EA770 Exide Premium Car Battery 067TE - Is carbon tech type = better just Google it. Make sure you remove one of the vent plugs, as was; and should be advised on the battery stickers and installation instructions, this information was provided clearly and sadly I have bought many other batteries that did not advise on this absolutely essential procedure, failure to remove the vent plug on a battery will likely cause it to explode under charging conditions unless it has a built in pressure relief valve. I fitted this battery after measuring the battery tray compartment on a SEAT Ibiza 1.8T FR (2004) this battery does fit perfectly, and should cover 2002 - 2008 including the Cupra models with the same battery trays fitted. Measure your battery tray from the narrowest points, mine is precisely. Length Narrowest Compartment Point 294mm Width Narrowest Compartment Point - 181mm Height Narrowest Compartment Point 191mm Very rapid delivery from Tanya.co.uk, the EA770 Exide Premium Car Battery 067TE - with carbon tech, is a superb battery; very good reviews online for it's performance and lifetime capabilities. Noticable improvement in crank time from the worn battery, to be expected; however vehicle starts in Minus -4°C temperatures within two engine turnover cranks, and the headlights no longer dip when the engine and battery are cold taking up drive initially. Pricing very competitive from Tanya.co.uk, compared with other suppliers listing the same battery, I decided to purchase from Tanya.co.uk, owing to the very positive feedback from other buyers, and the below possibly often overlooked aspect. Given Tanya.co.uk supply almost exclusively batteries as a product, their knowlege and treatment of a battery would likely be superior to other sellers. That being said, they would be far less likely to have let the battery sit in an uncharged state, which I suspect other sellers not Tanya.co.uk could be guilty of? I am certain Tanya, would agree; it is incredibly important for any battery. The correct pre sale treatment is possibly overlooked when customers consider a battery purchase, and I would recommend considering this factor to anyone. Leaving the battery in a poor state of charge during storage, or prior to selling; causes sulfation and calcification on the battery plates, inevitably severly reducing the batterys overall cranking, and amperage output; from the stated figures, vastly reducing the lifetime; and causing the battery to hold its charge poorly. Charged voltage on the supplied battery, from Tanya; was measured with a UNI-T U61E multimeter and was reading 12.67V which is very healthy. I do not have a dedicated battery tester to measure cold cranking amps and or overall amperage capacity, however after installation and leaving my vehicle to sit without running for 24hrs the battery voltage still reads 12.62V which generally shows the battery is holding its charge well and has been maintained by Tanya, prior to selling in superb condition. If you are not asleep or bored by now reading this review, go buy your new and highly recommended battery from Tanya.co.uk, and no I am not an employee, affiliate or shareholder, just a very satisfied purchaser.
5
JM - York, United Kingdom -

Fitted To: SEAT Ibiza FR 1.8T Petrol (2002 - 2008)
Very competitively price, i work in the trade and couldn't beat this value! Slight issue with delivery address which was sorted in seconds via the helpline. Have already recommended you to others!
5
AW - Rotherham, United Kingdom -

Fitted To: Honda Civic 2.2icdti Diesel 2009
Great. Shame delivery company came earlier then stated, so missed. And had to pick up next day, bit of a pain!
4
JK - Nottingham, United Kingdom -

Fitted To: Vw Golf 1900 Diesel 2009
Excellent battery. Delivered within 2 days. Very powerful for starting my wife's car.
5
RVD - Southampton, United Kingdom -

Fitted To: Fabia Estate 1.9 Diesel 2008(January)
5 stars so far, not had a chance to test cold weather performance but worked well straight out of the box.
5
MND - Cirencester, United Kingdom -

Fitted To: VW Touran 2.0 Diesel 55
Great price, quick delivery thank you
5
LH - Merseyside, United Kingdom -

Fitted To: Peugeot Expert teepee 2ltr Diesel 09
A brilliant battery and perfectly suited to my car. Great customer service enabled me to choose the right one. Battery is powerful and makes a huge difference in and outside the car.
5
MMP - London, United Kingdom -

Fitted To: BMW 318IS 1996 Petrol 2003
I incorrectly ordered on ebay. I then rang tayna direct at 4.15pm they were very helpful. Amended my order lmmediateley and I still recieved delivery by 10am next. Amazingly good service
5
mm - South Yorkshire, United Kingdom -

Fitted To: Rover 45 2000 Diesel 2004