Reviews of
Varta VW 3D0915105G AGM Battery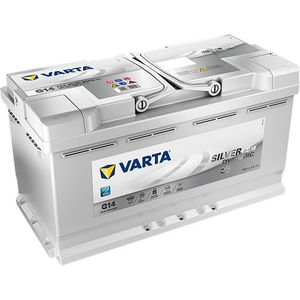 Varta VW 3D0915105G AGM Battery
Our Price: £156.95 inc VAT

(4.9 / 5.0) Average Rating:
Total Reviews:214
Customer Reviews
Well, it's really difficult to know what to say here really. I mean, the only real way you know if a battery is any good or not is if it still reliably cranks the engine on your truck several years after you've purchased it. If, in 4 years time, at the top of a Welsh mountain, in the middle of winter, after a night's wild camping, it still turns the engine over reliably then I'll know I made the right decision. In the short term, the battery arrived quickly, was well packaged and started the engine fine as soon as it was fitted, without requiring any charging first. I have heard good things about this range of AGM batteries and have no reason to think I will be disappointed.
5
FD - Gloucestershire -

Fitted To: Land Rover Defender 2.5l 300TDI Diesel 1996
Could not believe how quick it was delivered, it was what I wanted at the best price I could find. Thanks
5
AW - Newton Abbot -

Fitted To: Aston Martin DB7 v12 Petrol 2001
this battery replaced the original Varta battery from when the car was new 8 years ago and was still going ok. You cant beat that
5
MRW - Redhill -

Fitted To: Mercedes Benz C class W204 2.1 Diesel 2007
The new battery solved all of my start-stop and other minor electrical problems. Delivery was next day, great service.
5
DN - London -

Fitted To: Mercedes SL350 3500 Petrol 2013
What I like about this company is that they are really quick and efficient and don't mess around. Simple and straight forward. The battery is excellent and item was well packed. Shipping was fast and i got the battery when i needed it. The battery was for my Bentley GT and part number matched.
5
S - Luton -

Fitted To: Bentley GT continental 6000cc Petrol 2005
Needed the battery in a rush and it arrived the following morning as promised. Great service and I would happily recommend Tayna to others.
5
JU - Hertfordshire -

Fitted To: Jaguar S-Type 4.2 Petrol 2003
My 2008 Jaguar XKR, was starting fine with my old battery, but was exhibiting strange electrical behaviour - the sat nav seemed to take 15 seconds to boot up, or would hang completely on the start up logo. I'd read on a forum that this is an indicator of a dead battery, so I charged it with a CTEK charger, attempting to coax it back to life. The charger went through it's desulphating/reconditioning sequence, but to no avail. I thought I'd take a punt and change the battery, and as Tayna are by far (and I mean far!) the cheapest supplier, I'd order the Varta G14 AGM battey from them. All I can say is it has brought the Nav system/audio back to life. As soon as I start the car, the nav system boots straight to the menu - it doesn't even pause for the Jaguar splash screen!!!! Coupled with great packaging and a superb product & service, if I ever have to purchase another car battery (hopefully not!), then Tayna will be my first port of call. :-) 10/10
5
JW - Southampton -

Fitted To: Jaguar XKR (X150 type) 4.2 Supercharged Petrol 2008
Did some research and found Tayna to be very competitive on price. Delivery was very quick. What can I say, the battery was installed quite easily and I've had no problems so far.
5
DB - SouthYorkshire -

Fitted To: BMW 320d 2.0 Diesel 2008
top quality , great price and next day morning delivery
5
GM - Southport -

Fitted To: mercedes E55k 5.5 Petrol 2003
Quick delivery. Battery has now been in service for over year as start battery for marine engine. No issues so far.
5
DWS - Woodbridge -

Fitted To: Boat engine 4200cc Diesel 1978
Brilliant battery - Brilliant service from Tayna - arrived next day and was beautifully packaged, also given a 1 hour delivery window. 1st Class all the way
5
DM - Glasgow -

Fitted To: Aston Martin DB9 6.0 Petrol
Replacement of battery was easy and slotted into the existing space in the vehicle. Battery is heavy so delivery could be an issue but the courier was very helpful. To date no issues with the battery and if it last as long as the original I will not need to replace the battery for another 10 year.
5
sE - Devon -

Fitted To: mercedes e class 2700 Diesel 2005
Fast delivery! Good service!
5
NM - Brentwood -

Fitted To: Bmw 320d 177HP Diesel 57
2009 Jaguar XKR 5.0 coupe. Battery fits. Battery works. Good value. Quick delivery.
5
BH - Pulborough -

Fitted To: Jaguar XKR coupe 5.0 Petrol 2009 / 59
I put the G14 Varta start-stop plus AGM battery into my LTI TX4 London Black Cab, its a perfect fit, a lot bigger than the one I took out. It does the job which is what you want for your business.
5
Rc - Mansfield -

Fitted To: LTI TX4 Bronze 2.499 Diesel 2010
this was packed well sent on time and good value.
5
D - Leicester -

Fitted To: bmw 320d start/stop 177hp 2.00 Diesel 2008
Good product good delivery
5
SB - Worcester -

Top class battery, definitely want AGM for larger diesel engine. Best price delivered within 24 hours
5
KB - St. Leonards-on-Sea -

Fitted To: Mercedes E270cdi 2865cc Diesel 2003
Quote from Audi to replace battery on Stop-Start A4: £250 £140 to reprogramme the car afterwards! Bought this battery and fitted myself so saved £250! (Tip: when swapping the battery over, connect another battery - e.g. via another car with jump leads - to your cars electric and no need to reprogramme the car.) Great service from Tayna.
5
SF - Wiltshire -

Fitted To: Audi A4 2.0L Diesel 09
Fantastic service the delivery saw the battery here in a flash... Just a great company.
5
tr - Essex -