Reviews of
B34 Varta Blue Dynamic Car Battery 12V 45Ah (545158033) (049 057)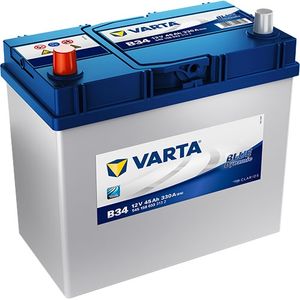 B34 Varta Blue Dynamic Car Battery 12V 45Ah (545158033) (049 057)
Our Price: £42.50 inc VAT

(4.9 / 5.0) Average Rating:
Total Reviews:164
Customer Reviews
You did what you advertised to do, bit unusual these days...it arrived undamaged, on time and securely wrapped. Well done would buy from you again.
5
NC - Dagenham, United Kingdom -

Excellent price and quick delivery
5
KE - Beverley, United Kingdom -

Fitted To: Toyota Yaris 1litre Petrol 2003
The battery is of good quality and was very well packaged. Delivery was also very fast as the company promised. I can recommend using the services of this company.
5
AE - Ann Wicks Road, United Kingdom -

Fitted To: Honda Civic 1.6 Petrol 2003
Almost an exact replica of the previously fitted Bosch S4-023 battery, just with the Varta label. Came just about fully charged, so no problems encountered during fitment.
5
WC - Nottinghamshire, United Kingdom -

Fitted To: Proton Savvy 1149 Petrol 2006
quick and easy ordering and delivery - very reliable
5
DH - Cornwall, United Kingdom -

Great batteries. I'm slowly switching all the family cars over to Varta.
5
RB - Chipstead, United Kingdom -

Fitted To: Austin 1300 GT 1275 Petrol 1973
All good with fast delivery
5
dk - Buckinghamshire, United Kingdom -

Fitted To: Reliant Scimitar 3 litre Petrol
Researched battery for 05 Honda Civic. Varta (part of the company that makes Bosch batteries as well) has a positive review base and appear to give good value for money. Self fitting is not rocket science and the Tayna price is so much better than using one of the mainstream tyre/battery outlets. Ordered Monday afternoon and delivered Wednesday afternoon. Great price and service. Battery fine but only time will tell if it outlasts its 4 year warrenty.
5
ER - Devon, United Kingdom -

Fitted To: Honda Civic 1600cc Petrol 05
very good service good product
5
MCW - Staffordshire, United Kingdom -

Fitted To: toyota iq 1000cc Petrol 10
Our car has no currant drain,but doesn't like sitting around. Out of all the makes we have had over its 20 year life ,these Varta seem to last the longest . The customer service from this company is highly recommended.
5
CD - Lincolnshire, United Kingdom -

Fitted To: Toyota RAV 4 Freesport 1998cc Petrol T
This is the 2nd battery of this type that I have purchased from Tayna for the same car. Only reason replaced is that 1st was over 4 yrs old and thought best to have fresh battery before winter and shall keep old one charged as spare. In my opinion great quality battery that's never failed together with great price from Tayna. Highly recommend.
5
MKPB - Derbyshire, United Kingdom -

Fitted To: Toyota RAV4 2.0 L Petrol 2005
I needed a new battery to fit my my Kubota tractor, size was imperative to be able to fit under the hood. This was the same as was original job done. Cannot fault the delivery time, the packaging i think was the best iv'e seen in a long while, with instructions for the safe handling of the battery. I certainly can recommend Tayna for your battery needs.
5
MH - Norwich, United Kingdom -

Great product , next day delivery , arrived in a very well packed box
5
TW - Gwynedd, United Kingdom -

Superb service.
5
HM - West Sussex, United Kingdom -

Got this for my Morris marina 1.8 coupe auto, to replace previous Varta B24 which lasted for 14.5 years. (I had another B34 in January for my Vanden 1500 auto, also replacing a B24 which had only lasted 14 years). The cars seem to run a bit better having a new battery, and start easier maybe due to increased cranking power of 330 up from 300 on B24's. I don't expect them to last as long as before but they have a 4 years guarantee so may do. Other top brands I had used in past on same cars only lasted 2 years! These are just within the size limits for space available as many types now too big to fit, some cars may need to extend the stay bar a bit with a short angle offcut.
5
SB - Staffordshire, United Kingdom -

Fitted To: Morris Marina 1798cc Petrol 1973
Exceptional customer service! Highly recommended.
5
TH - Rickmansworth, United Kingdom -

Fitted To: Toyota Rav4 2.0 Petrol 2005
good fast service
5
PW - Essex, United Kingdom -

My 41 years old car now starts easier & seems to run better with this new battery, having had the previous Varta one in for 14 years, it was getting a bit tired on icy days to cold start. Having tried many top brands since owning this car for 30 years, the best only lasted a couple of years before dying. So if this Varta battery is as good as last one I will be well pleased!
5
SB - Staffordshire, United Kingdom -

Fitted To: Vanden Plas 1500 automatic (Allegro type) 1485cc Petrol 1978 S
Perfect. Easy to fit.
5
MMB - Chepstow, United Kingdom -

Fitted To: Toyota IQ 950cc Petrol 2009
Delivered next day. Worked when fitted. Cannot comment on lifetime etc.
5
RS - Berkshire, United Kingdom -

Fitted To: Honda Civic hatchback 1.4 Petrol 2004