Reviews of
ODYSSEY PC680 Battery 12V 520 Cranking Amps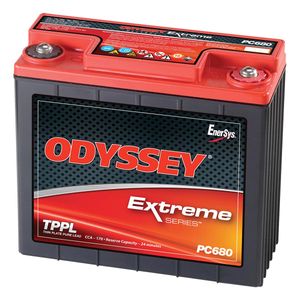 ODYSSEY PC680 Battery 12V 520 Cranking Amps
Our Price: £99.99 inc VAT

(4.8 / 5.0) Average Rating:
Total Reviews:232
Customer Reviews
Everything as claimed and prompt delivery well packed, Thanks guys
4
USER4731 -

Starts first time every time.
5
USER4643 -

excellent service. arrived on time as advertised.
5
USER4358 -

Does everything it's supposed too.
5
USER3864 -

Great battery, great service from a great company. What more can you say.
5
USER3836 -

This battery is the nearest sealed equivalent to the 16AH 1999 Ducati ST4 OEM fitment, but is slightly taller and deeper front-to-back, but less wide. This means that a new clamp plate needs to be made, plus the plastic supporting platform needs modifying with a longer retaining tab. The terminals needed small spacing extensions to enable the old connections to be fitted, but they were the right polarity/position. Finally, some of the padding on the inside of the fairing needed to be cut back. Bottom line is a battery that makes starting very easy, doesn't need maintenance, and will last a long time. Well worth the expense and effort! Nick Woods
5
USER3610 -

Brilliant
5
USER3557 -

Good package, good price, looking forward to using it in my Europa a/c
4
USER2800 -

Great product. This will save me loads of space and a fair amount of weight in my RX7. My brother recommended it and he's had no problems for well over a year. Fast delivery. Pleasure dealing with you.
5
USER2283 -

ODYSSEY PC680 is used on a wide variety of installations Motor bikes jet ski's I have installed my PC60 in my Vans RV-7 A 200mph aerobatic aircraft When your life depends on something you don't buy inferior products. Odysssey fits the Bill
5
USER2109 -

Straight out of the box.No extra charge ,Fired up first time.I am well pleased.Michael Martin P.S Fitted to aMurphy Maverick light aeroplane.
5
USER2027 -

I always use an Odyssey battery in my VMAX, you cant get more reliable. Tayna are the comany I will recommend too, best price and very quick. Well what more do you need?
5
USER1989 -

Excellent battery more power when needed. Found Tayna site by accident but what an accident cheapest out there for this battery and delivery only took a couple of days from completion of purchase.
5
USER1438 -

Actually bought this for my kit car, but have dropped it in my 325Ci just to give it some stick! Works a treat and at about 16kg less than the stock battery its a noticable chunk of weight gone. I'll be buying another for the kit car!
5
USER1402 -

very good battery! I have no issues starting the bike now! I would prefer it a bit less heavy though! many thanks for the excellent service and quick delivery!!
5
USER1088 -

I have not fitted the battery yet, but it arrived on time and looks fine. I also bought the battery charger which worked fine when I tried it.
5
USER1094 -

Battery seems to be excellent. Bike starts much better..quicker.
5
USER1055 -

Excellent - no problems and very quick.
5
USER1047 -

Arrived quickly - thanks
5
USER926 -

Excellent service. Battery arived next day and was ready for use. Bike fires up better than ever before
5
USER833 -