Reviews of
ODYSSEY PC680 Battery 12V 520 Cranking Amps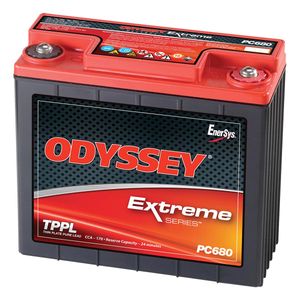 ODYSSEY PC680 Battery 12V 520 Cranking Amps
Our Price: £119.95 inc VAT

(4.8 / 5.0) Average Rating:
Total Reviews:232
Customer Reviews
Arrived very quickly and was fully charged. Fired up the car first time and saved me 3kg over the front axle in my Westfield :-)
5
Dom - Eastleigh -

The standard battery fitted to my BMW 1150 ADV always struggled to turn the engine over when it was cold, this winter it made things worse, so i decided to buy a Hawker Odyssey battery, totally different bike now, i would recommend this battery to anyone. Tayna Batteries were brilliant, very easy to deal with, plus the new battery arrived the day after ordering.
5
Mr D French - Plymouth -

Efficient service, good price and easy transaction. Thanks
5
John Brennan - Sligo -

brilliant!!!!!!!!!!
5
Markus Rohlfs - Chichester -

recived the battery with good service,the battery fitted the yamaha vmax lovely its a well rated battery and i wont use anythink else on it or any of my other bikes when needed thanks
5
stephenpickering - Coalville -

excellent item, AAA service
5
pekka vaittinen - hollola -

A lot of aeroplane builders use this excellent battery. It is lighter and more powerful than standard aviation products but is still acceptable for homebuilt uses. About time you started offering us a deal as there are plenty of us out there. how about advertising in the LAA Magazine ? http://www.lightaircraftassociation.co.uk/Magazine/LAMain.htm
5
Mike Newall - Harrogate -

Very quick delivery, fully loaded. Very cheap. Fit perfectly in my BMW R1200 Cruiser 2002 Thank you
5
SASMAYOUX Gilles - LA BAULE -

Fabulous service,thankyou.
5
Mr Christy - Preston -

I have previously used this battery on my BMW R1150GS that battery lasted 5 years before needing replacement, I replaced it with a normal battery which has only lasted 2 years, that's why I have gone back to an ODYSSEY.
5
James Knox - Ayr -

perfect
4
emilio - sevilla -

Squeezed it into a 900ss -has solved a long standing battery problem.
4
John Woods - Rossendale -

I only live 5 miles from Tayna batteries So I picked the battery up from their base. The battery was fully charged up via my optimate 4 and fires up my Caterham R500 which has an 11.5/1 compression ratio no problem. Great Battery
5
Mr M Bailey - Rhyl -

Battery looks like excellent quality. Delivery & Customer service were absolutely first rate. (Makes a refreshing change in this day & age !) Thankyou
5
Mr A Smith - Brigg -

This is the 2nd Odyssey PC680 i've bought for my 2nd Ducati ST4S. Service has been perfect and next day delivery too! The battery is phenomonal! cranks at 230 cca, huge improvemnet over Yuasa or Varta. Needs a bit of modifying to get it to fit into the Ducati Battery box but well worth it! A massive recommendation to anyone with a Duke!
5
dr thomas sealey - Westcliff-on-Sea -

Best battery I've ever bought, my Harley Road King has never started so easily in the 10yrs i've owned it
5
Nick White - Chester -

Best price and delivered following morning, this is my third purchase from Tayna as all transactions have been 1st Class. The ODYSSEY PC680 is the battery to go for if you want your V Max to start reliable especially when hot
5
VMX1200 - Guildford -

Had this battery before on my K75, lasted about 6 years. Good powerfull battery.
5
brian manners - Southampton -

Used in A Moto Guzzi V65SP - brilliant!
5
Macca - Northern Ireland -

I have not received the product, & it seems that you don't know when I will be receiving it, however, you have taken payment in full! Very poor service.
1
USER9405 -