Reviews of
ODYSSEY PC680 Battery 12V 520 Cranking Amps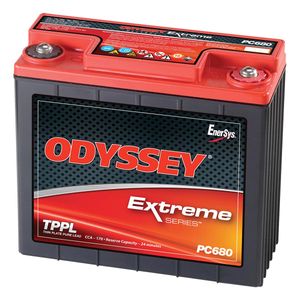 ODYSSEY PC680 Battery 12V 520 Cranking Amps
Our Price: £119.95 inc VAT

(4.8 / 5.0) Average Rating:
Total Reviews:232
Customer Reviews
Quick, efficient, no quibble, price matching service with next day delivery. Top !
5
USER9409 -

Tayna Batteries had the battery in stock at a fair price and excellent next day delivery service, well packed, the Odyssey battery comes fully charged so i put it straight on to my Laverda Jota the connections are slightly different to "normal" batteries but this was not a problem the battery is also 1/2 the size of the original battery so i packed it out with some high dentisity foam sheet cut to size, the sealed battery does not have a breather pipe so no messing about routing that and no chance of excess acid damaging any part of my bike. As i only use this bike in the better weather it could stand for weeks and not be used the Odyssey battery is renowned for holding a charge for longer periods.
5
USER9306 -

best price, and quick delivery. Couldn't ask for more.
5
USER9293 -

excellent superior battery that fits the BMW R1100S without any modifications to the terminals. 100% satisfaction.
5
USER9050 -

Very pleased with battery
5
USER8996 -

Excellant, starts my Grinnall Scorpion instantly.
5
USER8830 -

Check what you want before you order. I have an R1150GS Adv which wasn't listed and they weren't sure but at least they said that rather than give me some BS. I haven't fitted it yet as I needed the car battery now and the bike can wait but be aware that the terminals are flat on this battery but the original BMW are 90 deg posts like the old Ford batteries. Yo may need to buy some adapters from Motorworks. I went away and checked and then ordered it and a car battery and they arrived at work the following day. Beware if you are ordering to a non cardholer address (work) because my credit card got refused after I had placed the order. Tanya did email fairly quickly so it got resolved that day. Would definitely use again.
5
USER8715 -

Excellent communication, fast shipping and traceable, I arrived in Italy in just 5 days. The battery I ordered on Friday and I arrived home Wednesday, excellent packaging. I have the battery mounted on a BMW R 1150RT 2003, goes perfectly well. Thanks, I'll keep this on your site for future purchases. Thanks and regards. Nicola
5
USER8646 -

Excellent phone support and very fast delivery. You're now in my 'favourites'. Thanks!
5
USER8373 -

Is a bit too small for a BMW K1200GT, 2006 model, and you have to pack it out to be able to fit it securely. Socket terminals need a bit of fiddling to connect but otherwise fine. Next day service just that. Excellent.
4
USER8133 -

I received what I ordered within the expected time and will certainly buy from Tanya in the future.
5
USER8116 -

The Odyssey PC680 is a very good battery. I have two in my aircraf.
5
USER8088 -

Arrived quickly the next day and is a lighter more powerful battery - hope it lasts. The connections are a little unusual but fit a BMW R100S without the extra brass terminals
5
USER7722 -

ordering was efficient: postage was fast: and packaging was substantial: price compared to several other internet companies was very competitive
5
USER7540 -

Easy to find out which battery I needed, ordered it and it arrived as stated, fitted it and then rode off -easy. thanks.
5
USER7495 -

Good strong battery and good service from Tayna as usual. I was however, a bit disappointed there are no terminal post adapters available (for my R1150GS). I therefore had to make a couple from some small brass angle brackets to connect it up and avoid twisting/bending the OEM lead connections.
4
USER7468 -

Only fitted a week, but so far it's flawless. Stronger turning over. Quicker to fire up. Less choke needed.
4
USER7399 -

Excellant. No starting problems any more. Thanks
5
USER7164 -

Excellent service with quick delivery at good prices. That'll do for me. Roger North Yorkshire
5
USER6981 -

Excellent service again from Tayna. The battery has been fitted to a 1995 BMW R100RT. If replacing a HD battery, prospective purchasers will also need two rubber battery straps as used on the standard 20Ah batteries. Also: the positive lead can be twisted so that the terminal lines up with the battery post; the bent terminal on the negative lead needs to be flattened out so that it lines up with the battery post, it then fits as easily as the positive lead.
5
USER6913 -