Reviews of
Westco F19-12B Lawnmower Battery 12V (12V20P)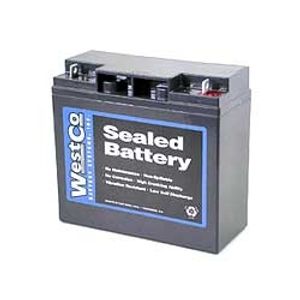 Westco F19-12B Lawnmower Battery 12V (12V20P)
Our Price: £79.95 inc VAT

(4.8 / 5.0) Average Rating:
Total Reviews:185
Customer Reviews
Bought the same make of battery from Tayna 12 years ago, it has performed faultlessly, and was still ok, but i thought i,d replace it as previous batteries never seemed to last more than about 3 years. Also, it is a direct fit onto the bike, same connections etc.
5
tc - Prestwick, United Kingdom -

Fitted To: BMW R1100GS 1100CC 1998
FITTED VERY EASILY, AND THE BIKE STARTED FIRST TIME, JOB DONE
5
MT - Lutterworth, United Kingdom -

Fitted To: BMW K1200RT 1198 07
Battery arrived promptly, securely packaged. It was a little lower in height than the original battery, but a little packing underneath easily brought it up to the correct height for the battery clamp to function properly. Bike started first time and with plenty of power to the starter. Very satisfied.
5
DS - Princes Risborough, United Kingdom -

Fitted To: BMW K1200GT SE 1200 2006
Fitted fine. Engine turns over faster than before with previous batteries. I like the fact that the battery is sealed given the awkward location of the battery under the fuel tank.
5
LW - UK, United Kingdom -

Fitted To: Bmw R1100s S
Good technical info from Tayna. Next day delivery. Works very well on my 1980's motorcycle. Spins the starter so much faster than a lead acid battery.
5
DH - West Midlands, United Kingdom -

Fitted To: Hesketh V1000 1000cc 1982
Replaced an odyssey battery with this. After two years I ended up putting the odyssey back on when this one failed!.
1
H - Cheshire, United Kingdom -

Fitted To: Bmw R1100rt 1100 1996
This battery lasted several years with daily winter use. It was was ok when I eventually sold the bike. Westco seem to give a good performance and longevity that justifies them not being the cheapest. I would buy one of these in preference to enduroline next time.
4
SF - Bristol, United Kingdom -

Fitted To: bmw r1150gs 1150 2002
Great product great service
5
SC - Wolverhampton, United Kingdom -

Fitted To: Bmw Gs1150 1150 52
Terminal orientation slightly different from factory, but can be easily made to work. Recharged just fine even when left flat for a few weeks!
5
IF - Harrow, United Kingdom -

Fitted To: BMW K1200GT 1200 2003
Great
5
mm - The Vale of Glamorgan, United Kingdom -

Fitted To: Hesketh V1000 1000 X
Exactly what was required - despatched quickly. Good price.
5
MPND - Cambridgeshire, United Kingdom -

The last gel battery I hand gave up. Decided to go for the glass mat battery as it gives a better cold crank rating. So far seems to be a better battery, compared to the old even when it was new.
5
MMY - Bognor Regis, United Kingdom -

Fitted To: BMW R1200rt 1200 2013
Excellent service replacing battery bought in error.
5
ar - Hockley -

Fitted To: Sym Scooter 300 16
Excellent product, highly recommended if you have the misfortune to own a Zané Laverda 750S or Formula. Has those few extra CCAs necessary to get these things started ... This is now the second one I've bought in 10 years. And the first was still registering 12.6 volts on my multimeter. Excellent delivery service from Tayna too. Arrived in France less than 48 hours after I placed the order. How good is that? :-)
5
CS - MONTPELLIER -

Fitted To: Laverda 750 Formula 750 1998
Battery arrived in good time. Time will tell if it is ok long term! But so far it seems good.
4
TMG - Tamworth -

Fitted To: BMW R65 650 1982
I had a bmw gel battery which was 4 years old of which after fully charging it will not turn the the bike over the following morning. After making sure the new battery was fully charged I installed it to my bmw r1100rt the bike turned over straight away and I stopped and started the bike that day 5 times no problem. I left the bike for 2 weeks then checked the voltage on the battery it was still showing 12.7 volts. Turned the ignition on set choke and the bike turned over still with no problem. Highly recommended
5
Dp - Stoke-on-Trent -

Fitted To: Bmw R1100 rt 1085cc 2000
This was the second of these I had. Bought in 2012, it gave up the ghost without much warning in 2016. The previous one did much the same at the same age so I recognised the signs. All credit to Tayna for an excellent delivery service on the replacement Enduroline. Excellent while it lasted, though, and the drop in performance wasn't noticeable until the last few weeks and it still started the bike with less than 12V showing on the gauge at rest.
4
MMHE - Milton Keynes -

Fitted To: BMW R65 650 1982
Arrived well packed and in good condition fitted and working well.
5
RS - Leicestershire -

Fitted To: BMW R1200RT 1200 57
Perfect fit. R1150gs adv.
5
DO - Co.Cork -

Fitted To: BMW R1150GS 1150 2002
Once again, another battery from Tayna, Being involved with a number of other biker pals, when they need a new battery they ask me to order it and so far I've ordered quite a number by now over about 8 years or so. No, I'm not a bike dealer or agent or anything and have no relationship to Tayna - just a rider and home mechanic for my own machines and those of pals when they want some help. So far all have been Westco (AGM types) as I've come to trust them for longevity and reliability (currently getting toward around 8 years old on one I bought way back for my GL1500 Wing and it's still working well). I've accidentally flattened it a few times (left lights on and radio) but it's bounced fully back every time after a session on the Optimate. Personal choice for the Westco, but good reports on the other brands too from what you can see on the site.. I can't imagine Tayna ever selling a poor battery at all. Just offering a balance of choice for type, brand and budget for customers, which has to be good for everyone. Latest one for me is on an R1100RT (BMW) with the twin Boxer engine. These big thumpers take some turning over and are quite tough on batteries, much like the Goldwing in some ways. As in absolutely every case before, the battery arrived on time, in perfect condition and very well / safely packaged. In my view these guys are really thinking about my purchases and are taking care to get them to me in top condition. So far every battery has been in a fully charged state and ready to fit. Pals have also reported the same for all the ones I've ordered on their behalf. The ordering process seems easy, and it can be online or by 'phone. They're very helpful if you speak to them too. Invaluable. Yep, service as it should be. I can't say I've ever heard anything to the contrary and that's important to me. Good work Tayna.
5
MR - Hull -

Fitted To: BMW R1100RT 1100 (1086cc) 1996