Reviews of
Westco F19-12B Lawnmower Battery 12V (12V20P)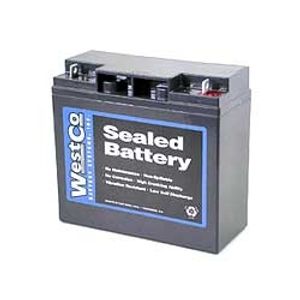 Westco F19-12B Lawnmower Battery 12V (12V20P)
Our Price: £79.95 inc VAT

(4.8 / 5.0) Average Rating:
Total Reviews:188
Customer Reviews
Arrived well packed and in good condition fitted and working well.
5
RS - Leicestershire -

Fitted To: BMW R1200RT 1200 57
Perfect fit. R1150gs adv.
5
DO - Co.Cork -

Fitted To: BMW R1150GS 1150 2002
Once again, another battery from Tayna, Being involved with a number of other biker pals, when they need a new battery they ask me to order it and so far I've ordered quite a number by now over about 8 years or so. No, I'm not a bike dealer or agent or anything and have no relationship to Tayna - just a rider and home mechanic for my own machines and those of pals when they want some help. So far all have been Westco (AGM types) as I've come to trust them for longevity and reliability (currently getting toward around 8 years old on one I bought way back for my GL1500 Wing and it's still working well). I've accidentally flattened it a few times (left lights on and radio) but it's bounced fully back every time after a session on the Optimate. Personal choice for the Westco, but good reports on the other brands too from what you can see on the site.. I can't imagine Tayna ever selling a poor battery at all. Just offering a balance of choice for type, brand and budget for customers, which has to be good for everyone. Latest one for me is on an R1100RT (BMW) with the twin Boxer engine. These big thumpers take some turning over and are quite tough on batteries, much like the Goldwing in some ways. As in absolutely every case before, the battery arrived on time, in perfect condition and very well / safely packaged. In my view these guys are really thinking about my purchases and are taking care to get them to me in top condition. So far every battery has been in a fully charged state and ready to fit. Pals have also reported the same for all the ones I've ordered on their behalf. The ordering process seems easy, and it can be online or by 'phone. They're very helpful if you speak to them too. Invaluable. Yep, service as it should be. I can't say I've ever heard anything to the contrary and that's important to me. Good work Tayna.
5
MR - Hull -

Fitted To: BMW R1100RT 1100 (1086cc) 1996
Good
5
MPP - Preston -

Fitted To: BMW RT 1200
Fantastic service, competitive pricing, quick delivery. Battery has only been on for a week but the last one servived for 6 years!
5
JP - Surrey -

Fitted To: BMW R1100S 1100 1999
The product is excellent. The service also was excellent. Many thanks. I have an Optimate 3 system fitted to the bike. I have read that there can be problems charging AGM batteries with these. Can you provide any advice or guidance in this regard? Regards, Barry Twohig
5
BT - Cork -

Fitted To: BMW R1150GS 1150 2003
Battery was fine , delivered promptly , it was for my Son's Kawasaki motorbike , still going strong .
5
MLY - Birmingham -

Good battery - quick delivery
5
RC - Tamworth -

Fitted To: BMW K1100 RS 1100 1994
Seems to be an excellent battery at a reasonable price. A good supplier though they do need to re evaluate the packaging that was used as it was not really up to the job. I count myself lucky that the battery wasn't damaged in transit. That said, I would use this supplier and product again.
4
DG - Bedfordshire -

Fitted To: Morini Strada 1977
Great company to deal with communication fast and efficient. Highly recommend. Would use again. Jb.
5
JB - Torquay -

Fitted To: bmw r1100 gs 1100 1998
Excellent battery at a good price. My bike has a slow starter. usually taking several pushes of the button to start, even when pulling back on compression. With this battery, the bike starts first or second press of the button.
5
MAM - Falkirk -

Fitted To: Laverda Ghost Strike 750 X
Has performed really well. Used in a race car rather than a bike but it cranks over a 2.0litre 6 cylinder engine without problems. Half the weight of a normal car battery but about half the price of a "race" battery - win,win! Quickly delivered and good price.
5
MSMH - Warwick -

Delivered on time.....Definitely helped to improve the starting on my Laverda 750s.
5
Ferni - Reading -

Fitted To: Laverda 750S 750 1997
Thanks for all your help
5
Dianna - Coventry -

Excellent service
5
Juergen Kissinger - Saffron Walden -

Fitted To: Bmw R1100 RS 1998
Excellent product
5
David Currie - Camberley -

Fitted To: Ducati 888 strada 888 1993
Exactly as required. Bike now cranks over like a dream. Dropped you down one star as battery was delivered one day latter than original date but i did get a text from carrier to inform me of a delay.
4
Steven Davies - Blandford Forum -

Fitted To: BMW R1100S 100cc
Needed a battery quickly and being a BMW needed a "special". I sourced the recommended OEM battery from Tanya who then recommended when ordering a better alternative with the same dimensions. Accepted the recommendation and the battery was delivered next day. Excellent service and good range, a little bit more expensive than the local motor factors but they would need to order in. Tanya had it in stock. Recommended
5
Adrian Lawton - Newark -

Fitted To: BMW K1200 LT Lux 1200cc 2004
Ordered battery for my BMW motorbike on line. Delivery very prompt but wrong battery. Rang Tayna and they replaced it the following day without any fuss. Would recomend them to anyone - would have got 5 stars if it wasnt for the original mix up.
4
Dave Roberts - Birkenhead -

Fitted To: BMW R1100RS 1100 2002
Great service - sound advice over the phone, although I knew what I wanted. And the battery works!!
5
Richard Hancock - Kidlington -

Fitted To: BMW 75s 750 1993