Reviews of
Westco F19-12B Lawnmower Battery 12V (12V20P)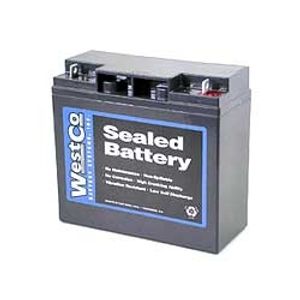 Westco F19-12B Lawnmower Battery 12V (12V20P)
Our Price: £89.95 inc VAT

(4.8 / 5.0) Average Rating:
Total Reviews:188
Customer Reviews
Very fast delivery, product very well packaged and exactly as described. I bought this battery as a replacement for the standard BMW gel battery. It is not quite as tall as the original. With a bit of packing I was able to get the retaining strap nice and snug.
5
Tanveer Choudhry - Sandy -

Fitted To: BMW R1150RS with ABS 1130 2002
Brilliant service and a very good price
5
Mrs M Bennett - Bath -

Fitted To: BMW R75/6 750cc 1976
First class transaction in all respects. The bike now starts if I wave the key at it from five yards!
5
a e cullen - Blandford Forum -

Fitted To: bmw r1200c 1200cc 03
I bought this as a replacement for the batt on my 2002 model bmw1150gs (ABS). The main reason was to benefit from its better cold cranking ability, and so far, so good! It fits the battery holder well, but is shorter than the standard battery, so needed a little bit of foam placed on top of the battery to allow the battery strap to grip it firmly. There are no terminal covers, but as the battery is shorter the terminals are now low enough to avoid any inadvertant contact with the chassis. The terminal holes are drilled a little lower than the bmw standard battery fixing holes, but with a wiggle, the terminals fit securely enough. Over all, Im am pleased with the fit and price.The delivery service is first class as well!
5
MR P COUSINS - Broadstairs -

Fitted To: bmw 1150 gs 1150 2002 abs non servo.
Perfect replacement for existing battery Excellent delivery arrangements.
5
Mr Barratt - Walsall -

Fitted To: BMW K1200 LT 1200 08
These guys deliver to every promise they make! Awesome price, superb quality, and super fast delivery! Trully, I can't see how it could get better, I will use Tayna everytime I need to buy batteries! Thank you!
5
ROD DE FREITAS - London -

Fitted To: BMW R1200C 1,200cc 2001
Great bit of kit and a very quick delivery.
5
Gary Theron - Orpington -

Fitted To: BMW R1200 GS 1200 2007
great service and delivery time very pleased
5
Mr Roberts - Grimsby -

Fitted To: Laverda 750 strike 750 cc 2000
Quick delivery, charged battery was immediately usable.
5
René - Hull -

Fitted To: BMW R1100GS 1100 1995
Quick delivery and yes it is slightly smaller size but works ok. time wil tell how well it lasts
5
jacko - Carlisle -

Fitted To: BMW Rockster 1130 03
Excellent battery and fast delivery
5
crazyfool - Crawley -

Fitted To: BMW 1100gs 1100 T
Prompt delivery of what was ordered, can you ask for more?
5
Anthony Muir - Hereford -

Fitted To: BMW R1200S 1200 2006
This is my second of these. Out of the box and charged overnight, it is a cracking battery. Performance on my first one, though, dropped off during its third year and it gave up completely just after its fourth anniversary. It hadn't been deep discharged and it was topped up every few weeks over the winter with an Optimate III. The staff at Tayna rated four years as a good history but I really expected better, hence only four stars. My plan was to replace it with an Exide gel battery and see how they compared but they were out of stock at Tayna who generously offered the more expensive Westco at the same price. So maybe I'll report back in another four years! Terrific service from Tayna once again. 5/5 for that. Thank you.
4
Enders K - Milton Keynes -

Fitted To: BMW R65 1982
I had purchased a car battery from you recently and I was extremely pleased with your service. Therefore when I needed a battery for my motorbike I went directly to Tayna. The quick and efficient response was even better than before. Many thanks.
5
sardar khan - lochgilphead -

Fitted To: BMW R1200CL 1200cc 2004
I cannot comment on this item as I cancelled the order before dispatch due your 'cutting edge technology'. I ordered a battery from another supplier who was very efficient and I had the battery within 36 hours of ordering.
1
Anthony Dady - Sliema -

Top-rate service, great prices and very fast delivery. I have no hesitation in recommending Tayna for your battery needs.
5
Boffin - Nuneaton -

Fitted To: BMW R1150RT 1138cc 2004
Excellent customer service with advice on offer to ensure the correct battery was selected based on complete fit to the specific motorcycle I was buying for. Delivery was then made the next day. This service is second to none an I will definitely use Tayna again and recommend them to others without hesitation!
5
Mr D Osbourn - Cambridge -

Fitted To: BMW K1200RS 1200 2001
Product was a very ecconomical choice for this light aircraft application, it being sealed, matted, and high output. Similar so called special batteries sold by aircraft specialist suppliers cost three times as much.
5
Flyboy - Chesterfield -

Fitted To: Europa Aircraft XS Mono 1300 NA
installed in an 04 r1150rt. fits great with a little rubber packing. good cranking, very very fast delivery. thanks
5
Dan Santoni - Bournemouth -

Fitted To: bmw r1150rt 1150 2004
This is a very good product and well worth the extra cost over the wet acid type. With an RT1100RT even the simple job of checking/toping up a 'wet' battery is a real hassel. (near side fairing off etc etc) I do a lot of long continental (3 months) hot weather touring and even the so called no maintence batteries need looking at from time to time due to evapourations and the occaisional spills when laying the bike down on rough ground! These AGMs are pure fit and forget, with no need even for an over spill drain tube! They come (very well packed by tayna)fully charged and ready with plenty of grunt to fire up the bike after a long lay up but as other reviewers have noted are slightly smaller - but better that than too large so be prepared with some packing pieces - polystyrene sheeting from the tyana packing works well. Terminals are in the right places but there is no provision for the usual BMW terminal protection flaps. I cut down and superglued my old ones on. I take care of over winter long term maintenance with a ctek auto charger and use a solar trickle charger on tour. Have not had it long enough to see what the useable life is
5
D.B.Driver - Winscombe (Somerset) -

Fitted To: BMW R1100RT 1100 1999