Reviews of
Exide ER550 DUAL Leisure Battery 115Ah (Porta Power PP115)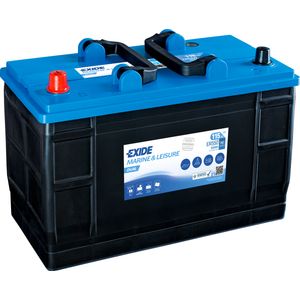 Exide ER550 DUAL Leisure Battery 115Ah (Porta Power PP115)
Our Price: £87.99 inc VAT

(4.8 / 5.0) Average Rating:
Total Reviews:141
Customer Reviews
Very nice people to deal with and did what they said and in the way and time.very unusual now a days will get my next battery's from them
5
MPB - Middlewich, United Kingdom -

These batteries are not holding their charge at all. They were fully charged before fitment to my boat. The connected to a victron mppt 30Amp solar charger and have never gone into absorption or float mode. They regularly go up to 13.7 or mor more and drop to 11v overnight with nothing connected. Very disappointed with them
1
RG - Nottingham, United Kingdom -

I had a problem with the batteries on my narrowboat. Tayna batteries supplied me with replacements (at a better price than the dealers) and delivered then directly to me. I would recommend Tayna batteries 100%
5
BC - Neston, United Kingdom -

Working well moving the caravan over a variety of surfaces. Motor mover has the power from the battery. Overnight delivery of the battery was exceptional.
5
PM - Sunderland, United Kingdom -

Excellent service and delivery from Tayna batteries!
5
MAW - Ross-on-wye, United Kingdom -

first class service and a good price well done and thanks
5
SC - Bedfordshire, United Kingdom -

I bought two at a very competitive price but the cost of shipping was disappointing and negated any savings on the purchase
3
JT - Carlisle, United Kingdom -

Quick service, delivered on time. Great price
5
CG - Gosport, United Kingdom -

The battery arrived in the time specified, and very well packaged. An excellent service. Will definitely use Tayna again if and when I need another battery and would recommend you to friends. Thank you.
5
WS - Doncaster, United Kingdom -

Pourquoi 3 * seulement ? Pas à cause du produit. Bien au contraire. Bien conditionné sur une palette garantissant son intégrité. Bravo. Pas non plus sur le suivi de commande très efficace et réactif. Bravo Mais 2 * en moins au détriment du transporteur qui ne prend même pas le soin de prévenir le destinataire du retard à la livraison..... Un petit SMS envoyé au destinataire le jour initialement prévu pour la livraison indiquant simplement que le retard sera de tant de jours éviterait au client de perdre son temps à l'attendre le jour J. Merci d'en référer à qui de droit.
3
LM - LA FORET FOUESNANT , France -

Good web site for choice. Helpful and professional telephone support. Very well packaged and shipped.
5
MM - Uttoxeter, United Kingdom -

Exide (used to work for Chloride) a good well built battery you can trust. I've used their batteries for many years as an auto electrician (now retired) never let me down. Now Tayna supply me with just one or two a year + found them to be great, reliable suppliers. Thank you Tayna***** Chris R
5
CR - Bognor Regis, United Kingdom -

Good product. ideal for caravan also motor mover. with power to spare.
5
DH - Willenhall, United Kingdom -

3 Batteries arrived today in Manfredonia, southern Italy. Buying in the UK and shipping to Italy was cheaper than buying a good marine battery locally.
5
MAH - Cheltenham, United Kingdom -

good service very quickly delivery Good price Will come back and buy again
5
LS - Berlin, Germany -

Great service and delivery
5
PH - Sidcup, United Kingdom -

Good quality battery
5
PE - Cardiff, United Kingdom -

The battery is good, fitted well and is working OK so far. The packaging for the battery was awful using lots of polystyrene foam board which is a terrible plastic and totally unrecyclable. In these days o climate and ecological crisis Tayna really need to find better packaging.
4
LP - Lincolnshire, United Kingdom -

Excellent product. Pity about the delivery as it went to the wrong address!
5
MH - Wallasey, United Kingdom -

Nickel
5
USER85382, France -