Reviews of
51913 BMW Enduroline Advanced Motorcycle Battery 12V 20Ah (12V20P)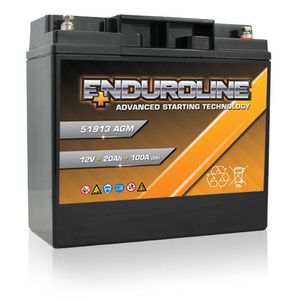 51913 BMW Enduroline Advanced Motorcycle Battery 12V 20Ah (12V20P)
Our Price: £54.95 inc VAT

(4.7 / 5.0) Average Rating:
Total Reviews:192
Customer Reviews
good quality battery to be fitted to a BMW r 800gs I have already fitted this battery to a r1100 r and works well.
5
jw - Somerset -

Thanks Tayna! simple to buy-on-line, fast delivery, better than the standard Be-em Exide, - Excellent! many thanks, G.P.
5
GP - Bedford -

Fitted To: BMW R1200RT Aw 1200cc 2014
Excellent battery. Fitted to my R1150GSA and cranked it over straight out the box. I had an odyssey battery fitt d and there was no messing about with the terminals. Very happy with the battery and very impressed with the next day delivery!
5
DD - Blyth -

Fitted To: BMW R1150GSA 1150 2005
I bought this as a replacement for the second Westco, each of which lasted almost exactly four years. I'd like a bit longer if I'm honest so it will be interesting to see how this one does. The first thing to note is that it is size for size identical to the Westco. So the fit is perfect on my 1982 R65. I very much like the top-mounting terminal posts, which will be easier to manage than the fiddly ones on the Westco when it comes to fitting and removing the battery. Without power in my garage that's unfortunately necessary over the winter. First time round the cables are a bit of a wrench to turn over to fit, but they're settling down. Like the Westco, it came fully charged. I put it on the charger just in case but it wasn't necessary. Also like the Westco it performs beautifully straight away. I'll report back on longevity in 2020!
5
MMHE - Milton Keynes -

Fitted To: BMW R65 650 1982
First battery ordered arrived damaged as it was poorly packed. Or, it may have been sent damaged prior to shipping. It was a cardboard box packed with shredded paper packed around the battery. The second battery arrived next day but I needed to make multiple calls to Tanya and provide evidence by photo of the damage, The second battery appears to have had the front label removed and another one poorly stuck back on, There appears to be cuts made to the top label by a craft knife removing the Ah description. Not sure if it is what I paid for as my bike does not turn over with the power you would expect from a new premium battery. Lastly, I was told that it is my responsibility to dispose of the damaged battery.
2
SB - Dulverton -

Fitted To: BMW R1100R 1100cc 2001
Arrived promptly and works as expected.
5
MPAD - Cupar -

Fitted To: BMW R1100R 1100 W
Great battery. Great price, fitted to my Yamaha vmax 1200, highly recommended
5
sg - West Sussex -

Fitted To: Yamaha Vmax 1200 1996 p
Excellent service
5
rc - Avon -

Exellent service and product Cannot be bettered
5
Ab - Bolton -

Fitted To: BMW R1100S 1100 1998
Excellent customer service , quick delivery,just a simple mod to earth lead & voila a 1150GS ready for the road.
5
ML - North Yorkshire -

Fitted To: BMW 1150GS 1150 2000
Fab service very speedy will def be using again..????
5
PMC - Omagh -

Excellent battery for the money. Connection by 5mm screw so make sure you have some!
5
MC - Rickmansworth -

Fitted To: BMW R1200C 1170 1998
Super fast delivery and an easy direct swap with the OE battery. Time will tell on quality and how long it lasts, but looking good so far!
5
NJ - Cambridgeshire -

needed a small adjustment to the battery leads to fit the terminals, but once done is an excellent fit. Original fit battery was horizontal bolts through standard square lugs on battery. New battery is a vertical single screw down into the battery terminal. Actually is safer and more compact this way, so is an improvement. It is also a lighter, more powerful battery than the original fit. Excellent.
4
MSG - Leek -

Fitted To: BMW 1150GS Adventure 1150 2002
the battery seams to turn the engine over with a lot more energy, and fits into the under tank cradle with room to spare, adapting the connection to the bike is the only reason it was not 5 stars. and will fit these battery's in to my other bikes as needed.
4
jw - Somerset -

Fitted To: BMW R1100R 1100 1995.
Excellent, my bike cranks over very well now.
5
AP - Lincolnshire -

Fitted To: BMW R1150R 1150 2004
Good battery just the job
5
sm - Hampshire -

Fitted To: BMW 1150GS 1150 02
Excellent battery better than the odesssy I had previously and cheaper Delivered promptly First class all round service Thank you Tanya
5
as - South Yorkshire -

Fitted To: Bmw R1150gs se 1160 2005
Fantastic product, very keenly priced. I looked at reviews before purchasing and yes there were a few minor 'adjustments' required to the battery cables but very straightforward to fit. The engine does indeed crank better than before and I look forward to quicker starts! Tanya batteries have a great reputation and I hope my endorsement further confirms this for customers.
5
MK - Hampshire -

Fitted To: BMW R 1150 GS 1150cc 2003
Brilliant! Not fitted it to a bike but to a jump starter and it is a lot more effective than the OEM one.
5
rps - Richmond -