Reviews of
51913 BMW Enduroline Advanced Motorcycle Battery 12V 20Ah (12V20P)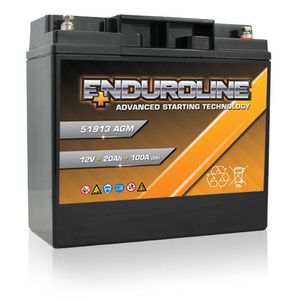 51913 BMW Enduroline Advanced Motorcycle Battery 12V 20Ah (12V20P)
Our Price: £54.95 inc VAT

(4.7 / 5.0) Average Rating:
Total Reviews:192
Customer Reviews
Great battery bike starts like a dream BMW DREAM that is .
5
AT - Bedale -

Fitted To: BMW R1200C 1170cc 2004
Juuuust fitted into the battery bay, once in it is a good fit, tight getting it past the shocker post on my BMW R80 G/S 1981 model. Top mounted terminals easy to connect to (with lots of Vaseline to keep corrosion at bay), fired up the motor easily. Good service, quick delivery, easy website to use.
5
PW - East Sussex -

Fitted To: BMW R80 G/S 800cc W reg
Ive only just started using it , how am i supposed to know if its any good or not
4
gc - Norfolk -

Fitted To: BMW R1200RT 1200 08
This battery fits well into my 2004 K1200GT. The cables needed a little persuasion, but no big deal. It looks like it will be a better battery, as the spec is higher an the technology is newer, but the battery is too new yet to tell.
5
m - Ely -

Fitted To: BMW K1200GT 1200 2004
Very fast delivery, fits my R1200rt no problem. Only been on the bike a couple of weeks, but started the bike straight out of the box. Excellent
5
SG - Perthshire And Kinross -

Fitted To: BMW R1200rt 1159 2005
Already charged. Some minor alterations to fit battery leads, positive first of course, and bike started. Battery v. important on K1200RS as if you keep trying to start on low battery will fuse starter relay together. I was lucky after three tries on old battery, realised what was wrong, and didn't try again!. Tanya Batteries delivered very quickly, and well packaged. Thanks.
5
TS - Norwich -

Fitted To: BMW K1200RS 1200 2001
very good battery and fast delivery
5
dh - Lincolnshire -

Fitted To: lawn mower 14hp
Slightly smaller than the original Exide, so easy to fit. The different connections necessitated rotating the connection cables by 90 degrees, but that was easy. Had to modify the positive jump start connection, but that job was also simple. Cranking speed seems much improved and battery holds to 12.5 volts after some days of bike being parked up.
4
T - Burley in Wharfedae -

Fitted To: BMW R1150RT !135cc 2004
Much stronger cranking than the original battery. Good value too.
5
AL - Nuneaton -

Fitted To: BMW R850R 850 2002
Very Good
5
GB - Livingston -

Battery is as stated. Fitted to Bmw r1150gs. Slight alterations were required to negative lead packing due to slight dimension packing but more than happy with the extra cranking power.
5
DD - North Yorkshire -

Fitted To: bmw r1150gs 1150 2003
Bought this in place of PC680 odyssey as the sight suggested - almost the same, great! But it would have been nice to know the terminals are M5 (not M6 like the PC680) & the terminal screws are very short ~8mm Started the Car first time, which was good; Time will tell... I must also add - Excellent service & quick delivery
4
RP - Billericay -

Fitted To: Lotus Exige 1.8 2010
Reviewing this six months after buying as only time can verify the suitability of a battery. Great CCA and starts my bike easily. Slightly shorter than the existing battery so a small plastic spacer was used to take up slack. Undersize was a easier to accommodate than an oversize! Great product and I could not believe how quickly it was delivered.
5
TM - Hampshire -

Fitted To: BMW R1100r 1100cc 1996
Very pleased with battery although the position of the terminals was a bit fiddly, and had to alter the existing connections.
4
tf - wishaw -

Fitted To: bmw k1100 1100 v
BMW 1978 R45/65. This replacement battery is dimensionally slightly smaller than the original. This made it considerably easier to install, except I had to add a packing piece to firm it in place. Once installed the bike fired up instantly and has been working perfectly since. The original battery (Different make) had been working very well for 5 years. Then without any warning completely failed. No amount of fancy recharging could restore it.
5
DD - Church Stretton -

Fitted To: BMW R45/65 650 1978
great value battery. early days yet as have only just fitted but works well at the moment.
5
MR - Surrey -

Fitted To: BMW R 80 G/S 800cc 1981
Very pleased bike turns over and starts with ease even hot it turns over now with no problems
5
pt - Monmouthshire -

Fitted To: BMW K1200GT 1200 2004
brilliant
5
MPH - Northampton -

Fitted To: battery jump pack
Working ok, when fully charged it has 13.9 volts the previous battery had 14.4 volts when fully charged. does not seem to make any difference. not sure what the normal run for fully charged batterys is
5
PS - Co CAVAN -

Fitted To: BMW K1600gtl 1600 cc 2013
Ok, does the job, powerful starting instead of sluggish old one.
5
MRJY - Newtownards -

Fitted To: BMW R65 650 1982