Reviews of
51913 BMW Powerline Motorcycle Battery 12V 20Ah (12V20P)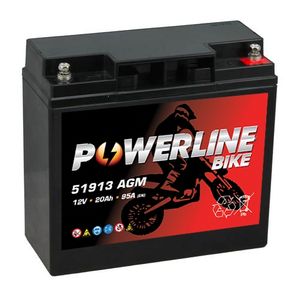 51913 BMW Powerline Motorcycle Battery 12V 20Ah (12V20P)
Our Price: £39.99 inc VAT

(4.7 / 5.0) Average Rating:
Total Reviews:145
Customer Reviews
Third battery brought same good service
5
Br - Huntingdon -

Well priced basic replacement for a BMW R1100RT
5
AA - Cheshire -

Fitted To: BMW R1100RT 1100 1997
Well packaged and received quickly. HOWEVER, when I plugged on my CTEK MXS 5.0 charger and conditioner, it failed, showing that the battery cannot hold a charge!
1
AB - East Preston -

Bought this for my BMW R1100 RS. Perfect fit and came precharged. Started bike first turn and ABS now working again.
5
SC - West Lothian -

Fitted To: BMW R1100RS 1100 1999
Excellent battery at a good price
5
AC - Nottinghamshire -

Fitted To: bmw k1100lt 1098 1992
Fits perfectly and didn't need charging before use.
5
JA - Aberdeenshire -

Fitted To: BMW K1200LT 1200 T
Fitted as direct replacement.
5
RS - Dumfries and Galloway -

Fitted To: BMW K1200RS 1200cc P
Pole connection different to original and screws used are small. Excellent delivery though
3
JW - Nuneaton -

Fitted To: Bmw K1200rs 1200 1999
Not enough cranking power for a R1150GS with heated grips/ABS. Arrived promptly, well packaged so well done Tayna on that. However after putting it on charge for 48 hours before my trip, after 100 miles to Dover, bike struggled to start following stopping for petrol, several similar issues. Never let me down completely, but had several ABS fail checks and the digital clock resetting, so the bike is drawing more than this battery can supply. Was reccomened the Exide, so once this is collected/refunded will probably go for that. So in short, not for R1150GS ABS/Heated grips (2002) with the upgraded alternator electrics.
1
IW - UK -

Does what it says on the tin. So far, so good.
5
jc - London -

Fitted To: BMW R1100R 1100 1997
not quite powerful enpugh to do the job, had to replace with another make.
1
LE - Hertfordshire -

Fitted To: BMW R1200RT 1200 08
Excellent product and service. This is the second battery I have ordered and both arrived the next day.
5
JQ - Dorset -

Fitted To: BMW K1200GT 1200 2009
The battery was delivered very quickly and was well packed. It was fractionally smaller in dimensions than the Varta it was replacing but fitted well with a small piece of packing. The terminals were also of the same format which made connection easy. Since fitting I have used the bike several times, on occasion after a considerable period of non-use, and the battery fired it up first time every time with no problem at all. BMW Boxers call for a high level of charge when starting and the Powerline provides this with ease. It's a good solid battery and exceptional value from Tayna. Highly recommended.
5
CJW - Lockerbie -

Fitted To: BMW R850R 848cc 1995
Next day delivery was much appreciated and the battery looked very similar to the original other than the electrodes were slightly different. A good fit in the bike and has worked well so far.
5
LP - Devon -

Fitted To: BMW R1150GS 1150 Y
I was very pleased with your service the battery was here the next day and I felt the price was good value for the money yours Steve H
5
sh - Berkshire -

Fitted To: BMW GS II00cc 1997
A great battery with no problems so far delivered to my door within 24 hours which meant my beloved bike was only off the road for one day :-) Awesome!
5
GB - Telford -

Fitted To: BMW R1150GS 1130cc 2003
Fitted well and turns bike over although has not cured my problem with the fuel pump circuit. Delivered within a couple of days and well packaged.
4
pw - Hampshire -

Fitted To: bmw k1200rs 1200 R
I would give it zero stars if possible. Battery not fit for bmw 1150 rs as advertised. Very disappointed and not even fully refunded. Overall poor experience.
1
MTS - Wallingford -

Fitted To: Bmw Rs 1150 05
Powerful Advanced Technology Battery. Superfast next day delivery. The best battery retailer online !!!!!!!!!
5
PC - Paignton -

Fitted To: BMW K75 750 cc 1986
Battery arrived on time exellent ,fitted bty ,it did not have the power to turn engine over 1150gs cheched starter motor was found ok ,bty left on optimate ,next day bike started ok rode bike to work 12 miles at home time approx 8 hrs bike was sluggish starting ,due to work commitments was unable to use bike for a week ,when attempting to start bike was just able to start there is no starter issues as bike starts ok initially after turning off ,i have had a replacement bty before , will leave charging for next week and update you
2
js - Berkshire -

Fitted To: bmw 1150gs 1150 02