Reviews of
YB14L-A2 / 12V14L-B / 12N14-3A Westco Motorcycle Battery 12V 12Ah - Replaces YTX14AHL-BS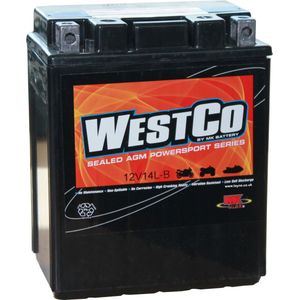 YB14L-A2 / 12V14L-B / 12N14-3A Westco Motorcycle Battery 12V 12Ah - Replaces YTX14AHL-BS
Our Price: £67.95 inc VAT

(4.8 / 5.0) Average Rating:
Total Reviews:163
Customer Reviews
Great delivery
5
MVAC - Steyning, United Kingdom -

If you need a battery, have total confidence in ordering from Tayna. Battery arrived well packaged, and just took 3 days to Northern Ireland. Top class service.
5
JW - Londonderry -

Fitted To: BMW F650gs Dakar 650
Perfect fit... Great price inc Del
5
DS - London -

Fitted To: Yamaha diversion 600 j
High CCA gives good performance starting my 750. Terminals slightly bigger than original but easy mod
5
SB - London -

Fitted To: MotoGuzzi Nevada 750 classicie 750 2005
plenty of poke to turn the bike over even after the bike as been standing over winter
5
tD - Swindon -

Fitted To: Kawasaki Kz1000 1015 1977
Lasted for a couple of years then failed.
3
PG - Ware -

Does what it says on the tin! Impressively fast delivery too!
5
JH - Cupar -

Fitted To: MTD Yardman Beetle Ride-on lawnmower.
Fitted this battary to my low annual mileage Trident 900 in Nov 11. Far better cranking than the yuasa. Replaced it with the same in July 2015 as the charge retension was down to about 75% (but still going strong).Best battary i've ever bought. I'm a despatch rider and do about 40000 miles a year.
5
MBJD - Luton -

Fitted To: Triumph Trident 900 1998
Fits perfectly in the Triumph T25SS After that, it just works
5
PS - Edinburgh -

Fitted To: Trumph T25SS 247 1971
Cannot give a meaningful star rating, as the product has yet to be properly tested. It has been fitted to my motorcycle, and appears to be performing satisfactorily, though so far this is only when running the bike on the stand as other problems have prevented me taking it out on the road. Will review again in - say - 3 or 6 months if you wish.
1
KPM - Cottingham -

Fitted To: Royal Enfield Classic 500ES Bullet 500 single 2007
My 1992 Triumph Trophy 1200 has a very lazy starter motor, and standard batteries struggle with it, but this had it turning over like a good 'un. I can't comment on the longevity of the battery as I have only had it a few days.
5
MR - Castleford -

Fitted To: Triumph Trophy 1200 J
The battery arrived very quickly and, after charging it, I fitted it without any problem whatsoever. After that the bike fired up first touch of the starter.
5
IM - HERTS -

Fitted To: Kawasaki GPZ 400 M
Conflict in respect of the instructions stuck on the battery and the leaflet in the box in respect of the allowable charging rate
3
AN - Worcester -

Excellent service
5
MRB - Colchester -

Fitted To: Harris matchless g80 644 88
Not the same battery as displayed just a Westco decal over a generic far eastern unbranded battery - also advertised as a 14Ahr but the battery clearly states it is 12Ah Disappointed considering the price
2
SB - Derbyshire -

Very helpful when I made a telephone enquiry. The battery was delivered very quickly. I fitted it a week after delivery. I was impressed by the power. Overall very pleased.
5
CR - London -

Fitted To: Triumph Thunderbird 900 M
Fab service, delivered to Scottish highlands in 2 days, courier very helpful as delivered to neighbour an said he was sorry for disturbing there afternoon, better price that local bike shop, an the staff know there batterys, top will dev use again ;)
5
MGF - Munlochy -

Fitted To: Suzuki Gisxer 1127 Old schol
Good service
5
MH - Bristol -

Fitted To: Yamaha FZR Genisis 1000cc D
First class service, I ordered it 4.00pm one day and it arrived at my door 10.45 am the next day, could not be better. I have fitted the battery and all seems well, I will definitely use Tayna again. Thank you.
5
RW - Newbury -

Fitted To: Triumph Thunderbird 900cc 1997
This one was for a Pal's Suzuki and only just fitted, so can't comment on it specifically yet. But having bought a fair few of the Westco ones for myself and other pals over the last 6 or 7 years, our general opinion is that they have been very good. Hence the 5 star rating is based on past experience of them. Several (including mine) have been for Goldwings. These bikes place a notoriously heavy demand on the battery on starting, and also due to them (variant dependant) having their lights permanently on. So our batteries get a hard time. Mine has been on at least 6 years (might be 7 even now) and still works. I've flattened it several times by accidentally leaving accessories on in the garage for days (not the battery's fault) but each time a short trickle charge has bounced it fully back. Ok, good policy says I might fit a new one this year, but it's probably not vital even yet. Still, 6 or 7 years out of any battery on such a big bike is a great result. But if I do fit another, it'll almost certainly be another Westco. Tayna's delivery? So far on-time, every time. I can't fault them. Well done guys! Personal opinions only given here.
5
MR - Hull -

Fitted To: Suzuki GSX1100 1100