Reviews of
YB14L-A2 / 12V14L-B / 12N14-3A Westco Motorcycle Battery 12V 12Ah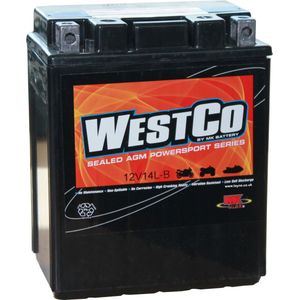 YB14L-A2 / 12V14L-B / 12N14-3A Westco Motorcycle Battery 12V 12Ah
Our Price: £65.95 inc VAT

(4.8 / 5.0) Average Rating:
Total Reviews:167
Customer Reviews
Battery fitted perfectly and turns engine much faster. Service from Tayna was excellent.
5
USER5509 -

Unfortunately the Westco battery was out of stock, so i recieved a Numax sealed battery instead. After discussion with technical guys i decided to fit it and it is working fine. It has a much improved ability to start my bike as apposed to any previous wet battery, including Varta. Delivery was quick and the packaging very good. Will use again (if i ever need to replace it).
4
USER5405 -

good product, quick delivery. the way business should be run
5
USER5016 -

I had a special need for a brilliant battery to fit in the standard Triumph Tiger mounting. The bike has a 1000cc diesel triple engine and with 22:1 compression and glow plugs it takes a lot of electrical power to start up and this battery fits the job perfectly
5
USER5054 -

My second bike was hard to start after a long stand. This battery has solved my starting problems.
5
USER4782 -

I received my battery ok, and I am awaiting to fit it when I can. Thankyou
4
USER4621 -

The bottom line is, it goes in, but only just; the battery is deeper and taller than the original. I had to loosen the two 10mm nuts holding the battery tray in place to let it slide; angle the top of the battery towards the front of the bike and push it in over the lip of the battery tray. I couldn't get the battery strap back on, but don't worry, THAT BATTERY IS GOING NOWHERE! The extra wiring I'd put in for my GARMIN was now a problem and had to be re-sited. The battery connector leads had to be straightened out as the terminal mounting horizontal. (BTW Motorworks sell (for a fiver!) two bits of right angle metal to 'correct' this on their Odyssey Battery, but apart from being a rip-off, there is no room for this as the WESTCO battery is too tall already. Why anyone would want to do this I don't understand as it's FAR easier to get your spanner on the bolt with the terminal mount horizontal, so the Motorworks 'mod' is actually putting you back in the previous awkward position). Biggest problem was the 'tank' bodywork. The tall battery makes getting the centre panel back on pretty tricky. The threaded clips that attaches one panel to another can be bloody infuriating when they just won't 'catch' the bolt. There's one I've given up on. So, not quite a trivial exercise, but the battery looks and feels like it would start a truck. The price from TANYA Ltd is excellent and the delivery very fast. No more boiling batteries and no more checking the water level. I'm glad I did it, but I can see why Tanya do not list the F650 as a fit for the YB14L-A2 Westco. It's a big squeeze and I can't imagine mr BMW Service Technician being too pleased about having to fiddle with it next time they have to remove the covers... Mikey
5
USER4582 -

Very fast delivery especially so close to Christmas. Well packed and first class service. Pat on the back well deserved!
5
USER4527 -

This Numax sealed battery does the job, but being a higher capacity and somewhat larger, it takes some time to fit satisfactorily. Worth every minute though! Excellent service from Tayna, as usual.
5
USER4170 -

EXELLENT SERVICE QUICK DELIVERY GOOD COMUNICATION VERY HELPFULL THANKS STAN.
5
USER4112 -

Good fast service. Battery still to be fitted to motorcycle but everything to-date seems fine. Thanks
4
USER4094 -

excellent
5
USER3982 -

Does what exactly it says on the tin, and now I don't have to worry about the winter ruining another battery.
5
USER3828 -

Very happy with the quality and RAPID standard delivery service.
5
USER3794 -

Excellent efficient service. Battery works a treat.
5
USER3740 -

excellent service
5
USER3665 -

Unfortunately I'm unable to review this Westco battery, as I was sent an equivalent Numax battery in it's place. However, I've given the Numax battery 4 stars, purely on it's ability to start an engine that hadn't been used for over two years, first time, on the button. I obviously can't comment on it's long-term ability, or reliability. Thanks.
4
USER3359 -

Tight fit, but well worth it, should fit all Yamaha Teneres that take a yb12-al2 battery, just shave the mounting rubbers down a tad in the battery tray. Thanks Tanya batteries great support and hope to use again.....but hopefully not soon, if you know what I mean! Good luck and you are very recommended. Battery was delivered superfast and ready to go out of the box. Stick paypal and google checkout on there and get yourselves on ebay. A fantastic service......
5
USER3257 -

Next day delivery, great quality really pleased thanks
5
USER3164 -

exellent service quick delivery, good comunnication on the phone good advice given many thanks
5
USER3080 -