Reviews of
D15 Varta Silver Dynamic Car Battery 63Ah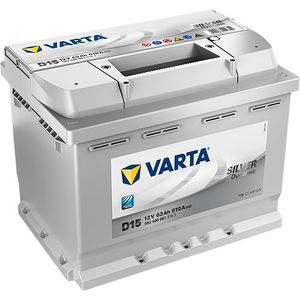 D15 Varta Silver Dynamic Car Battery 63Ah
Our Price: £60.95 inc VAT

(4.9 / 5.0) Average Rating:
Total Reviews:794
Customer Reviews
Very pleased with product performance. Easily fitted into existing clamps, cover & housing. Good advise by phone prior to order, then fast efficient delivery with no problems. Well done Tanya.
5
MDL - Northallerton, United Kingdom -

Fitted To: VW Polo 1400cc 16V Petrol 02
Not such a good deal if you have a failure within warranty (as I did) and have to pay carriage to return it to Tayna for testing. However, testing & refund of replacement purchased carried out promptly.
1
JJ - Lowestoft, United Kingdom -

Excellent service and this battery allowed me to keep it original equipment in my vw tiguan ,perfect fit and newer upgraded version of my old original varta battery.
5
gw - Falkirk, United Kingdom -

Fitted To: Vw Tiguan 200 Diesel 2009
VARTA may not be the cheapest batteries, but they are very good value for money, and are less expensive than Bosch who appear to offer the same VARTA product with a Bosch label on. VARTA build quality is excellent and they are very reliable, especially during winter months when other batteries can struggle. My previous BMW branded battery was made by VARTA and it lasted 10+ years. I did a lot of research before buying from Tayna. They not only offer competitive prices, they have also provided exceptional customer service. I ordered my replacement battery at 3.35pm on a Friday afternoon, and the delivery driver was walking up my drive with the new battery at 1.15pm the following afternoon (a Saturday). Now that's good service!
5
PK - Betchworth, United Kingdom -

Fitted To: BMW
Unbeatable price from Tayna again. I needed to buy an uprated battery for our 2006 Seat Ibiza petrol which does lots of short journeys, and had started to have problems with the old battery as the electric power steering draws a lot of current, the existing 44 Ah battery was 3/4 years old and couldn't cope with multiple start ups and the power steering load (Power steering was cutting out and lots of electrical gremlins/warning lights). So I bought the largest capacity battery that fits in the battery tray (63Ah) and this Varta battery only cost a few pounds more than the old smaller battery did 4 years ago! So the uprated battery did the trick, car runs perfect again. The Varta battery is quality and has a longer guarantee than most. Arrived quickly (select a delivery day from just 60p extra) and was very well packaged. Thanks Tayna!
5
AT - Manchester, United Kingdom -

Fitted To: SEAT Ibiza DAB 100 1400 Petrol 2006
Good price (even with postage), well packaged and delivered on schedule. Excellent.
5
PE - Fareham, United Kingdom -

Fitted To: VW Passat 2.0l Diesel 2008
Great service, delivered next day in a very secure package. Great like for like for on a Peugeot 207.
5
AJ - Maidenhead, United Kingdom -

Fitted To: Peugeot 207 1398 Petrol 07
The description enabled me to match the OEM battery with the replacement on a VW Tiguan. Very helpful and quick service. I highly recommend Tayna.
5
JC - Dorchester, United Kingdom -

Fitted To: VW Tiguan 140 2000 Diesel 2008
Arrived punctually; easy to fit with good instructions. Working well.
5
NO - Coulsdon, United Kingdom -

Fitted To: Skoda Octavia 1900 Diesel 2008
Excellent service and fast delivery thanks
5
pg - -, United Kingdom -

AN EXACT REPLACEMENT TO THE CAR MANUFACTURER FACTORY FITTED BATTERY WHICH HAS LASTED 7 YEARS. NEW BATTERY 5 YEAR GUARANTEE SO NO WORRIES. I ALWAYS BUY FROM TAYNA BATTERIES.
5
JIW - Preston, United Kingdom -

Fitted To: Skoda Fabia 1.4 Diesel 2010
Good item, quick delivery, very well packed. Over a year later and still very strong.
5
TW - Wiltshire, United Kingdom -

Fitted To: Skoda Fabia 6y2 1.4 74kw Petrol 2000
Excellent service from Tayna. It's a pity that they only sell batteries. But maybe that's why they are the experts in their field.
4
MNB - Gloucestershire, United Kingdom -

Fitted To: Alfa Romeo 147 1600 Petrol 03
I wanted the exact same make and model of Battery in my car as the one that was in, because Varta is a good battery. My old Battery started to struggle to hold a charge this was the only place I could find it the exact make and model the shipping options was a bit confusing but it arrived a day after the day I thought I selected for delivery. I gave it a good pre-charge overnight and it was like a the car had a new lease of live only time will tell if this one will be as good as my old one
5
GE - Berkshire, United Kingdom -

Brilliant! The battery arrived the day after ordering. Excellent robust packaging. Good instructions and the battery was exactly as ordered. It fitted the car as required and works perfectly. It's all I could wish for. Thank you Tanya Team.
5
RB - Lichfield, United Kingdom -

Fitted To: Renault Megane 1500 Diesel 2010
The terminals did not fit.I gave all the details for my hyaunai i30 comfort I read someone else had the same problem
4
MQ - Gloucester, United Kingdom -

Fitted To: hyundai i30 comfort 1400 Petrol 2009
Battery arrived next day and was fitted without any issues. Great service.
5
NR - Nottinghamshire, United Kingdom -

Fitted To: Toyota Avensis 1.8 Petrol 2009
Great quality, value and speedy delivery, really good as my battery had suddenly given up the ghost.
5
JRH - GRANGE-OVER-SANDS, United Kingdom -

Fitted To: Mercedes 230CE 2200 Petrol 1982
Battery arrived in 24 hours. Pleased.
5
JF - Leicestershire, United Kingdom -

Fitted To: Mini One 1600 Petrol 04
Good service- prompt delivery. Will use again.
5
PT - Suffolk -

Fitted To: VW Passat 2.0 Diesel 2010