Reviews of
D15 Varta Silver Dynamic Car Battery 63Ah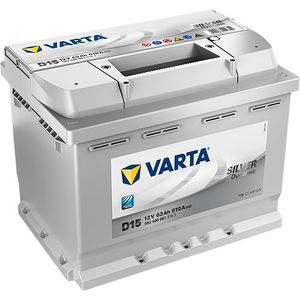 D15 Varta Silver Dynamic Car Battery 63Ah
Our Price: £60.95 inc VAT

(4.9 / 5.0) Average Rating:
Total Reviews:784
Customer Reviews
Very pleased with this purchase. The battery arrived very quickly and was well packaged
5
MC - Surrey, United Kingdom -

Fitted To: Toyota Avensis 1794 Petrol 2010
Great delivery and product, fitted as replacement on VW Touran to original Varta OEM from new 2009. The original lasted 9 yrs but struggled in cold weather so though I'd stay with Varta. Note: I previously worked for Chloride/Exide on lead acid battery development so can spot a good battery!
5
JS - Skelmersdale, United Kingdom -

Fitted To: VW Touran 1.9TDI Diesel Dec 2009
Arrived very quickly. Doddle to install. Works like a charm. very pleased. Thank you for great service.
5
MW - Cardiff, United Kingdom -

Fitted To: Volkswagen Passat estate 2 litre Diesel 2007
Good price, quick delivery
5
FO - Dersingham, United Kingdom -

£102 locally, have to collect in 3-5 days or £75 and next day delivery to my front door! WHICH WOULD YOU GO FOR? Delivered by DHL Parcel, sign up for texts for when it will be delivered. I received text to say "driver has one more delivery to make and should be with you in the next 5 - 15 minutes. I stood on the doorstep....he arrived 30 seconds later! I collected from the driver to save him time! Car was reluctant to start, cranking the car, battery would drop to 9.2v. Alarm would go off at random in the early hours of morning and blip unit would not open doors. Had to open doors with key, which set alarm off! So annoyed the neighbours! Fitted the new battery, the varta one I took off was the original fitted to car, manufactured 08/2006, (so 12 years old)! Car now starts fine, alarm no longer goes off at random. (Old battery voltage dropped below a voltage threshold in the early hours (as colder) so was setting alarm off!) Blip unit resynked to alarm system so central locking working again. A very happy customer, would thoroughly recommend!
5
SB - Rugby, United Kingdom -

Fitted To: Skoda Roomster 1.9 Diesel 2007
My mini was not starting well and wouldn't keep the time, changed to the varta d15 and she is like a new car, runs and starts perfectly and keeps the time. Thanks for fast delivery.
5
Jw - Ipswich, United Kingdom -

Fitted To: Mini Cooper 1.6 Petrol 06
This is a great battery. I use my car very rarely but this battery has not let me down.
5
MKS - St. Leonards-on-Sea, United Kingdom -

Fitted To: Peugeot 306 1.8 Petrol 2000
Very powerful battery for the size also great 5 year guarantee very pleased with it
5
RR - Huddersfield, United Kingdom -

Fitted To: Triumph TR6 2500 Petrol GUB350N
Spot on. Arrived quickly and in good condition. Too price.
5
PT - LONDON, United Kingdom -

Fitted To: VW Golf 6 1998 Diesel 2009
Fabulous service , arrived the next day . Quality product, many thanks
5
TE - Devon, United Kingdom -

Top quality battery at a great price. Works really well on my old Chevy.
5
SC - Buckingham, United Kingdom -

Fitted To: Chevrolet Chevelle 5700 Petrol 1970
good solid battery , fair price , quick delivery
4
Tw - South Ockendon, United Kingdom -

Fitted To: ford focus mk3 1600cc Petrol 12
High quality product!
5
LB - Siena, Italy -

Fitted To: Volkswagen Golf 2000 Diesel 2009
Fast and Safe delivery. Top BatterY
5
DN - Eschborn, Germany -

Fitted To: Subaru Legacy 2.0 GT Spec-B 2.0 Petrol 2004
Het was supersnel geleverd en precies de goede kan niet beter ???????
5
ADV - Coevorden, Netherlands -

Fitted To: Citroen Berlingo 16 Petrol 23-07-2018
exerlent product good price
5
gf - Oldham, United Kingdom -

Fitted To: peogeot 207 1400cc Petrol 2010
Couldn't be happier.
5
A - Merseyside, United Kingdom -

Fitted To: Audi TT 1.8 225 Petrol 02
This battery was recommended to for my car by the Tayna team. I am not disappointed. It is an exact fit for my car. It looks to be of good quality and is working well. With a 5 years guarantee what more can you ask.
5
JG - Preston, United Kingdom -

Fitted To: Nissan Qashqai + 2 1500 Diesel 2011
Very good battery, would recommend to everyone, good price and fast delivery.
5
fn - Cullompton, United Kingdom -

Fitted To: Rover 400 2.0 Petrol 98
The battery was delivered quickly and I was kept fully informed of progress from the time I placed my order until it arrived at my front door. I am very pleased with the price and quality of the battery and with the service I received from Tanya, thank you.
5
WH - Basingstoke, United Kingdom -

Fitted To: MG TF 135 Convertible 1.8 Petrol 2003