Reviews of
D15 Varta Silver Dynamic Car Battery 63Ah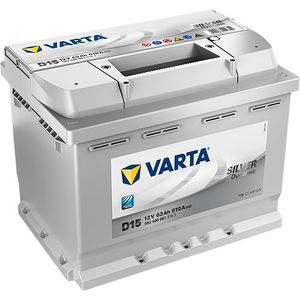 D15 Varta Silver Dynamic Car Battery 63Ah
Our Price: £60.95 inc VAT

(4.9 / 5.0) Average Rating:
Total Reviews:787
Customer Reviews
I've bought a number of Varta Silver batteries from Tayna over the years. Always an excellent service at the best price for a premium battery. Had to fit the battery clamp across the top of the battery (like a chin strap) rather than around the middle on my classic car as the battery walls are thinner than the original and probably wouldn't take the stress.
5
W - Aldershot, United Kingdom -

Fitted To: Volvo 121 Amazon 1800 Petrol 1966
Excellent service. Battery was exact match for the one in the car despite it being at least 5 years old. Arrived the next day.
5
NM - Edinburgh, United Kingdom -

Fitted To: VW Jetta 1900 Diesel 2009
Arrived very well packaged, fully charged and ready to go. Many Thanks
5
SA - Church Stretton, United Kingdom -

Fitted To: Peugeot 206CC 2000 Petrol MF52LFK
Batterie reçue rapidement et chargée à bloc. Embalage soigné afin d'éviter des surprises. Batterie de qualité qui tient bien dans le temps, pour preuve celle ci vient remplacer en préventif celle en place dans l'auto depuis 2010 avant d'avoir un souci. Varta très bonne marque et Tayna vendeur sérieux.
5
CJ - Dunkerque, France -

Fitted To: Mini Cooper 1.6 Petrol 2008
It's a battery, it came quickly, I installed it, it worked. Bingo!
5
PE - London, United Kingdom -

Fitted To: Skoda Octavia VRS 2.0 Petrol 2009
Great straight replace for failing OEM battery
5
DS - MAIDSTONE, United Kingdom -

Fitted To: Skoda Octavia 1998 Diesel 2011
Just the job.
5
BC - Shepton Mallet, United Kingdom -

Good value, arrived well-packaged. Could not find a way to establish date of manufacture (the OEM Varta battery it replaced had clear week/year stamp on terminal).
5
JW - Cumbria, United Kingdom -

Fitted To: Skoda Yeti 1.2 TSI Petrol 2012
Same battery as was on the car so fitted perfectly, very quick delivery and good price so I'm very happy with it.
5
cb - west yorkshire, United Kingdom -

Fitted To: VW Caddy Maxi 1998 Diesel 09
Battery came as described and quickly, I gave it an overnight charge before fitting, but I had no need to as it was already fully charged! Good price and service, definitely recommend.
5
RB - Whittlesey, United Kingdom -

Fitted To: VW Passat 1.9 Diesel 58
Very good .? Thank you very mutch
5
N - Olpe, Germany -

Bought this for a like for like replacement on my wife's 2008 Touran. The original battery has lasted almost 11 years but was begining to struggle to start in the colder weather. Hope the replacement is as good as the factory fitted one. Deducted 1 star as have a Yuasa that is 12 years old and still going strong in another vehicle.
4
AD - Caerphilly, United Kingdom -

Fitted To: VW Touran 1.9 Diesel 2008
Very please with both service and product (reduced 1 star due to the polystyrene packaging being very crumbly and spilling everywhere).
4
DS - Warrington, United Kingdom -

Replaced the original battery in my wife's Golf which was sluggish turning over. The main dealer wanted £150 to replace the battery. Great service from Tayna and an easy 10 min job to replace.
5
DH - BURGESS HILL, United Kingdom -

Fitted To: Volkswagen Golf Mk 6 1.6 TDi Diesel 2011
Excellent item, direct replacement for my car. Service from Tayna first class too, next day delivery, well packed. Matched/undercut a lower internet price with no quibbles. Will definitely buy from Tayna again.
5
AS - Great Yarmouth, United Kingdom -

Fitted To: Peugeot 207 SW 1.6 Diesel 2008
The car starts just fine now this is fitted. Not much else to say about a battery. Delivery was good.
5
PC - Waterlooville, United Kingdom -

Purchased this battery fromTayna Batteries as a direct replacement for the one on the vehicle. Ordered on 24 December and it arrived on the 28 December. It was well packed and an excact match to the one on the vehicle. Very happy with the ease of ordering and delivery.
5
DT - Kent, United Kingdom -

Fitted To: Volkswagen Caddy 1.9 Diesel 2005
Excellent delivery and comes well packed. Easy installation with a bit of help from youtube - took me about ten minutes.
5
WL - Southend-on-Sea, United Kingdom -

Fitted To: BMW 3 series 2.0 Petrol L
Battery arrived really quickly and excellent delivery service. Easily fitting and working great. Good value including a 5 year guarantee.
5
KJ - Doncaster, United Kingdom -

Fitted To: Vw Golf 1.6 tdi Diesel 2010
Fair price and fast delivery.
5
CG - REUVER, Netherlands -