Reviews of
D15 Varta Silver Dynamic Car Battery 63Ah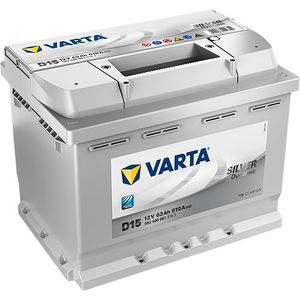 D15 Varta Silver Dynamic Car Battery 63Ah
Our Price: £60.95 inc VAT

(4.9 / 5.0) Average Rating:
Total Reviews:784
Customer Reviews
Excellent service
5
GM - IE, Belgium -

Fitted To: Mazda 2 1,4 l Petrol 2013
Fast efficient service and good strong product.no problem starting my van .many thanks.
5
DB - East Ayrshire, United Kingdom -

Fitted To: Vw Transporter 2.5 Diesel 57
This is a really solid battery which we used as a replacement for the OEM one on our 2005 Octavia VRS (so that lasted a goodly time). Engine lights up almost on the first click. Tayna provide a really helpful and prompt service. Also I have inadvertently clicked on the wrong link as there are two Varta Silver Dynamic Carr Batteries the 63 Amp and the 77 Amp and I ordered the 77 Amp which is slightly larger. I contacted Varta and explained and there was absolutely no problem. they arranged the return and replacement for the following day. Outstanding customer service!
5
RT - Caversham, United Kingdom -

Fitted To: Skida Octavia VRS 2.0 Petrol 05
Top grade and Ideal battery at a great price. Many thanks
5
TB - London, United Kingdom -

Fitted To: Skoda Yeti 2.0Tdi Diesel 13
The OEM Varta battery died on our old Polo after 12 years - how dare it;-) Tanya's service was spot on with the correct battery arriving within 24 hours of the order being placed. Good price, accurate match of requirements and great service.
5
DH - Haywards Heath, United Kingdom -

Fitted To: VW Polo 1.9 Diesel 54
Only had the battery a couple of weeks but so far seems really good. The real test will be how it performs on winter mornings which I obviously cannot comment on at the moment. I had to cut one of the ends off the existing factory fitted plastic battery tray on my car to get the new battery to fit but this was a simple task with a hacksaw blade and the entire fitting process only took 30 minutes. I knew when I ordered the battery that I would need to cut the end off the battery tray to accommodate the new battery as it is about 25mm longer than the Fiat main dealer specified battery for this car. The D15 Varta battery has a higher CCA than the Fiat battery so should provide better starting for my diesel engine.
5
DP - Neston, United Kingdom -

Fitted To: Fiat Punto 1.9JTD Diesel 2003
Ex service and communication. Arrived on time as specified. Good battery information available
5
ID - MIDDLESEX, United Kingdom -

Fitted To: VW Polo 1.4 Petrol 06
Purchased for our C4. Excellent price and very quick delivery. Look forward to many years of service.
5
RS - Kent, United Kingdom -

Fitted To: Citroen C4 VTR HD 1.6 Diesel 2012
Arrived promptly and god product at a good price
5
PM - OSWESTRY, United Kingdom -

Fitted To: citroen c3 1.4 Diesel OE04
very friendly,helpful and quick would highly recommend
5
pr - Telford, United Kingdom -

Fitted To: vw touran 1900 Diesel 06
Great Service, good price and superb battery Tkank you
5
MC - London, United Kingdom -

Fitted To: Toyota Auris 1.6 automatic Petrol 2007
Arrived very well packaged, all good. Time will tell how good the battery really is!
5
SR - Ilkley, United Kingdom -

Fitted To: Skoda Octavia 2000 Diesel 2011
2nd purchase now from Tayna and I wouldn't use anyone else! fantastic service and great price,very quick delivery,fitted in minutes and now my car starts on the button. Thanks Tayna and keep up the great work!
5
RC - Hampshire, United Kingdom -

Fitted To: Volkswagen Golf GTI Mk2 16v 1800 Petrol 1991
Fast delivery, perfect protective packing!
5
HE - Peyrusse Grande, France -

Fitted To: peugeot 206cc 1.6 hdi Diesel 2005
This battery was purchase to replace OE battery, same manufacturer, fitted 2005. The only difference between this unit and the original is the new battery doesn't have a charge level indicator. Other than that the battery is exactly what you'd expect from Varta. The service received from Tayna was really first class, battery arrived within two days, and superbly packed. Price wise couldn't get near it not even using my trade contacts. I own a number of vehicles and help to look after a few others. Tayna's details are in my bookmark listing and I shall be using and recommending them in future. I'm going to try them out for motor oil as well!
5
MRC - Eastleigh, United Kingdom -

Fitted To: Skoda Octavia Elegance Estate - 6 speed 2.0 ltr - 150 bhp - Turbo Diesel 2005
snel en alles in orde
5
AK - Mechelen, Belgium -

Easy to fit, car starts first time again, hardest part was finding if battery was compatible.
5
GA - Erskine, United Kingdom -

Fitted To: Audi a3 2l Diesel 09
Very speedy delvery by Tayna of my new battery. Easily fitted and fired up first time.
5
GMR - Plymouth, United Kingdom -

Fitted To: VW Passat 1.8 Turbo Petrol 2000
Good products, good service. Used Tayna for years now and always consistent
5
JO - London, United Kingdom -

Fitted To: Saab 9000 2000 Petrol L
Delivered on time and fully charged, happy with purchase
5
MA - Norwich, United Kingdom -

Fitted To: Audi TT Quattro 1.8 Petrol