Reviews of
12V31M Westco MX-5 / MX5 Car Battery Replaces S46A24L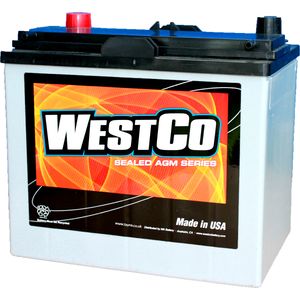 12V31M Westco MX-5 / MX5 Car Battery Replaces S46A24L
Our Price: £112.95 inc VAT

(4.7 / 5.0) Average Rating:
Total Reviews:209
Customer Reviews
Excellent service. Battery slightly different in size to the Panasonic so may need to buy new vent tubes. Details regarding charging this type of battery would be helpful.
5
Geoff - Newport -

Fitted To: Mazda MX5 2000cc Petrol 1999
Battery ordered, battery arrived, fitted battery, charged overnight to be on the safe side, started car, all fine and very easy. Will be ordering a battery for my Escort Mexico next, my new best friends!
5
PJay - Reading -

Fitted To: Mazda MX5 Mk2 1.8 Petrol 2002
Battery arrived pretty promptly. Good packaging and documentation. Price was competitive.
5
Si Roots - Liverpool -

very efficient order process with rapid delivery, highly recommended
5
stewart robinson - Oldham -

Fitted To: mazda mx-5 1.8 Petrol 1998
Whilst the ordering process was efficient I was a little surprised when the battery arrived to see that it had no branding on it whatsoever to say it was a WestCo as advertised. It seems to work ok so hopefully all will be fine.
3
Willums - Shrewsbury -

Fitted To: Mazda MX5 1840 Petrol 1995
fantastic quick service
5
Paul Young - Pershore -

Fitted To: mazda eunos 1600 Petrol 1992
Cannot fault the service from Tayna,fantastic! Just hope the battery matches it.
5
Mr Kingdon - Totnes -

Fitted To: Mazda MX5 Sport 1.8 Petrol 2002
Battery as stated. Excellent fast delivery.
4
Mr Richard Edwards - Cirencester -

Fitted To: mazda mx5 1800cc Petrol 02
Excellent service on both order proceedure and delivery. Their pricing was very competitive. Will definately be using Tayna again.
5
David Paton - Northampton -

Fitted To: Mazda MX5 MK1 Eunos 1800cc Petrol 1996
Not actually got around to installing this into my Westfield yet as I need to fabricate a new tray and mounting hardware (it's a custom fitment rather than going into an MX-5), but it actually weighs slightly less that manufacturers spec (12kgs), at ca.10kgs, all good news. Electrical specs should make this a perfect battery for my application, hopefully far better than the rubbish Red Top dry cell battery that it's replacing.
5
Spenny_B - Kent -

Very quick delivery, and the Car Battery 12V Westco MX-5 (replacement battery Panasonic) works and fits very well. Also the cost was very good compared with other places. Very pleased with the service
5
Minty - Swanley -

Fitted To: Mazda MX5 1800 Petrol 2002
Delivered exceptionally quickly.
5
Owen Williams - Hereford -

Fitted To: Mazda Eunos 1800 Petrol M
Easy to use and find the product required on the website. Fast and efficient service. Car back on the road in no time! Thanks!
5
Lili - Staines -

Fitted To: Mazda Eunos Petrol
I ordered the new battery which was a direct replacement to the original Panasonic battery it was important that it was exactly the same size as it was. The delivery and service was first class.
5
Graham Fox - Northampton -

Fitted To: Mazda MX5 1.8 Petrol 1995
as described, came in good time, well package perfect fit, just turned breather pipe around. thanks
5
timothy s j colling - Redcar -

Fitted To: mazda mx5 mk2 1.6 Petrol
Fast delivery - Extremely well packed. I would Tayna recommend to anyone
5
Alan Beesley - Kinross -

Fitted To: MX-5 Mazda 1800 Petrol 1998
Easy fit after quick delivery.
5
Mr J Tracey - Kingswinford -

Fitted To: Mazda MX5 Series 1 1800 Diesel 92
Excellent service...
5
Ms. Noonan - Derby -

EXCELLENT SERVICE TROUGH OUT :)
5
Justin Gatt - HMR 133 -

Fitted To: mazda mx5 16 Petrol 1991
First class product matched by a first class supplier. Product was exactly as expected, well packaged and arrived really quickly. I will definitely deal with this supplier again and would recommend them wholeheartedly.
5
ralph whitehouse - Caldicot -

Fitted To: A Grillo Climber 900 ride-on brushcutter 18hp Petrol 2003