Reviews of
12V31M Westco MX-5 / MX5 Car Battery Replaces S46A24L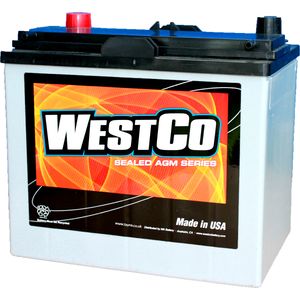 12V31M Westco MX-5 / MX5 Car Battery Replaces S46A24L
Our Price: £112.95 inc VAT

(4.7 / 5.0) Average Rating:
Total Reviews:209
Customer Reviews
It fits, it is a suitable alternative to the factory original Panasonic battery and cheaper, it is our second westco battery on a car we have owned for over 14 years, doing not many miles every year and being left out in all weathers and as there is little alternative choices that fit it does the job!
4
mh - Newcastle upon Tyne -

Fitted To: Mazda Eunos 1598 Petrol 1991
My Westco battery was delivered to my place in Belgium in a very short time, following the schedule given by DPD in the morning (said between 13:14 and 14:14, arrived at 14:10!). Very good packaging from Tayna... I just have nothing more to say, except THANK YOU. I will recommend Tayna to my friends driving MX-5s or other cars!
5
DF - Mons -

Fitted To: Mazda MX-5 1.6 l Petrol 1999
Fast delivery & Packed very well with foam so no chance of damage, these gel batteries are not that easy to find & at this price & service i highly reccommend Tayna Batteries Thank you very much my mx5 burst into life again.
5
TF - Great Yarmouth -

Fitted To: Mazda MX5 1600 Petrol N Reg
The battery was delivered very quickly and packaged very well. This is the correct battery for my 1.8 mx5 and starts the car much better than my previous battery.
5
BJt - Greater Manchester -

Fitted To: Mazda Mx5 1800 Petrol 1998 mk1
Ventillation pipes needed to be adjusted. Other than that the battery is very good, fast next day delivery.
5
AG - Llanelli -

excellent service and speedy delivery, thanks
4
MM - Preston -

Fitted To: mazda mx 5 1,8ltr Petrol 2003
Strong High quality battery. perfect for my 1600cc mr2 engine.
5
js - Pinner -

Fitted To: Toyita Mr2 1600 Petrol Kit
Just as described and the correct battery type for the MX5, arrived fully charged, ready to go and cheaper than anywhere else.
5
MS - Derbyshire -

Fitted To: Mazda MX5 mk1 1.6 Petrol J reg
This is a gel battery specifically designed for the MX-5. It is very expensive but does the job sitting in the boot. They only seem to last 4 years .
5
AR - Wiltshire -

Fitted To: mazda Mx-5 1800 Petrol 1996
Arrived on time and fitted perfectly in my Mk 1 MX5.
5
CS - Fife -

Fitted To: Mazda MX5 1.6 Petrol 1992
Battery was cheaper than from MX-5 specialist and Delivery was really quick & efficient. The battery was slightly taller than the original Panasonic one but it didn't cause a problem, the original clamp fitted fine. I had to modify the vent tubes due to the different location of the ports on the battery but this wasn't difficult.
5
PW - Darlington -

Fitted To: Mazda MX-5 1.8L Petrol 2003
4 stars instead of 5 as not identical to OEM Panasonic needing some modification to vent pipes. Fitted to MX5 mk2. This battery is slightly shorter than the OEM part and the vent holes are at the front instead of the ends. To adjust the vent pipes to fit I found simply reversing the entire pipework from where it joins the bodywork makes it all line up without further modification so simple enough. This battery has a channel for the vent pipe to sit in preventing it from being crushed by the retaining bracket, its slightly taller to so doesn't need to be tightened fully down or that would put a lot of pressure on the top of the battery. I padded out 3 sides with foam to ensure it will not move.
4
KS - Ipswich -

Fitted To: mazda mx5mk2 1.8 Petrol S
Delivered by yodel to the wrong address and then left in the lurch by Tanya and yodel with both of them saying that it was delivered to the correct address. I was told to make a claim through PayPal for non received items. After four days a man knocked on my door with my parcel saying it was delivered to him. Haven't told yodel this and after more than a week I've still heard nothing from them. Put the battery on the car and it started, so it works.
1
MW - Essex -

Replaced in a Mazda MX5 Etna 2004 Second generation (MKII) model NB The two breather pipes are in a different location so I had to modify the tubes (cut one and used the offset to lengthen the other). Seems to be slightly taller, not a major issue but I did not tighten the brace all the way to the boot floor for fear of the brace putting too much pressure on the battery. Shipping was good with the battery delivered well protected in France.
4
MH - la cote st andre -

Fitted To: Mazda MX5 1600cc Petrol 2004
An excellent direct replacement for the original. No messing around trying to make it fit which is appreciated as it sits in a confined space. I gave the battery a 4 hour charge with the charger I purchased from you, all was as it should be. Works great.
5
nb - Essex -

Fitted To: mazda mx5 Series 1 1840 Petrol 1997 (R)
Excellent product at an excellent price, with super-speedy delivery - perfect!
5
JW - Whaddon -

Fitted To: Mazda MX-5 1800
Excellent product, delivered very quickly,easy to install and works "out of the box".
5
NR - COLEFORD -

Fitted To: Mazda Mx5 1600 Petrol R
very good service promt next day delivery
5
MR - Ipswich -

Fitted To: mazda mx5 1.8 Petrol 1998
Easy to fit in Mazda MX5. I just needed to adapt the breather pipes. Prompt delivery, all very good.
5
MB - Louth -

Fitted To: Mazda MX5 1800 Petrol Mk2, 1998, S Reg
This is my second purchase from Tanya, I am very satisfied with all aspects from online ordering to delivery. The tracking service helps with knowing when to be at home to take delivery as this item has to be signed for. This battery is a good reliable alternative the the original Panasonic battery supplied by Mazda, just some minor alterations to the breather tubes. It is a pleasure to deal with a Company providing such a slick service to Northern Ireland sometimes that little stretch of water can deter trading or push up delivery costs prohibitively, not so with Tanya Batteries, Thank you.
5
MS - Carrickfergus -

Fitted To: Mazda MX5 1.6 Petrol 2005